Thank you (again) for continuing to support The New Man.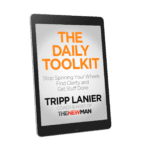 If you haven't already, click here to check out the library of available courses and ebooks. They're all free — including the brand new ebook/audiobook, The Daily Toolkit.
In the meantime, it's a good idea to make sure emails from [email protected] and [email protected] are whitelisted so your opportunities don't find themselves in the spam/promotions folder.
Thank you!