Podcast: Download
Subscribe: Apple Podcasts | Spotify | RSS
How does rite of passage affect the rest of your life?
Are you really alive?
So you've experienced your Rite of Passage, you're speaking to your animal spirits, now what? 😉
Jayson gives us some suggestions on how to take your insight back into the world and how to stay connected to your highest self throughout your life.
What is the Rite of Passage really about?
Are you in touch with the fact that one day you will die?
Popular culture often hints at the kind of initiation into manhood we are talking about. War films, coming of age tales and hero stories are often built around a man's Rite of Passage in some way. "Fight Club" pointed to the problem, but didn't really offer a workable solution. The film "Into the Wild" is Jayson's favorite Rite of Passage story, and every man with these questions should check it out.
About Jayson Gaddis, Creator of Revolutionary Man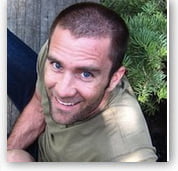 Jayson Gaddis, LPC, is an expert in male psychology. He's a life and relationship coach and CEO of Revolutionary Man, a company devoted to men in their 20's and 30's (and often men in their 40's) who are committed to going beyond mainstream, status quo Manhood and men who are committed to reaching fulfillment in ALL areas of their life. Jayson believes that when guys can master their own inner psychology, anything is possible.
He began this work as a leadership consultant traveling the country helping young men lead more effectively. Jayson has led over 25 wilderness rites-of-passage trips with men of all ages. He spent over ten years working with at-risk youth in a variety of settings. He's an adventurer at heart and has climbed some of the country's tallest peaks and used to spend over 200 days per year sleeping on the earth, working in the Wilderness.