Podcast: Download
Subscribe: Apple Podcasts | Spotify | Stitcher | RSS
Every man has had wandering thoughts or wandering eyes at some point during his committed relationship. Most likely it happens every day!
Should we be avoiding these thoughts—repressing them so we don't hurt our partners?
Absolutely not, according to LiYana Silver, it's part of what makes you a man.
So why do our special ladies seem to get so pissed off about it?
It likely has to do with our ability to stay connected to them. If we can develop strong, healthy, constant connection to our partners, there is no limit to our freedom. We might even go so far as to take our relationship outside of the normal rules of monogamous commitment if that's what we want to do, according to LiYana.
Listen as LiYana lets us in on the secret "Kryptonite" that melts the resistance and defensiveness of any woman in relationship to establish true, deep connection. This connection is liberating for men in relationship, as we will feel the reigns loosen through trust.
About LiYana Silver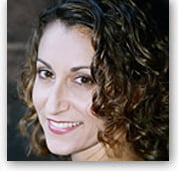 LiYana has been a professional modern dancer for over 10 years in Europe, Israel and New York City, most notably with the Kibbutz Contemporary Dance Company and the Metropolitan Opera Ballet. She is a Vinyasa yoga teacher and her oil paintings have been displayed upon the gallery walls the likes of Lincoln Center and an East Village tattoo store.
Since 2001, she has had a private coaching practice, in which she works with those seeking a holistic and down to earth approach to relationships, nutrition and lifestyle. She has taught and lectured at numerous universities, corporations and institutions, including NASDAQ, the Institute for Integrative Nutrition, the School of Visual Arts, St. John's College, Marymount Manhattan, Baruch College, the Atlantic Theatre Company and The Juilliard School. She writes a regular column for New York Spirit Magazine, "Enlightened Sex in the City."
She has been in an exquisite relationship – "a co-created work of art" – with her boyfriend of five years. Her vast and varied experiences have served to clarify for her that intimate relationships are a powerful vehicle for extraordinary personal growth, and a sacred opportunity to dance with the biggest flirt of all, the divine.