Podcast: Download
Porn is a part of nearly every man's sexual life.
LiYana Silver points out that a little porn is good for spice here and there, but too much porn can be like junk-food — polluting our healthy relationships and distracting us from connection with our partner.
She urges us to practice in the bedroom, giving our full energy to our partners.
LiYana then shares with us the key differences in how men and women open emotionally in relationship. Bringing a little consciousness to these differences is often enough to get through the hang-ups and into the true depths of connection.
If you are experiencing resistance to commitment, get in touch with what are you going to lose by entering into a committed relationship? "Get in touch with that, then we can work with it," she says.
You can have something EXACTLY the way you want it.
There's plenty of love to go around. Learn about the different styles of intimacy men and women bring to the table. Find out what absolutely has to be there if you want to take your relationship beyond monogamy.
Relationship lived in this way will call us to be our highest expression of a man.
About LiYana Silver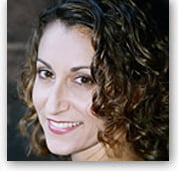 LiYana has been a professional modern dancer for over 10 years in Europe, Israel and New York City, most notably with the Kibbutz Contemporary Dance Company and the Metropolitan Opera Ballet.  She is a Vinyasa yoga teacher and her oil paintings have been displayed upon the gallery walls the likes of Lincoln Center and an East Village tattoo store.
Since 2001, she has had a private coaching practice, in which she works with those seeking a holistic and down to earth approach to relationships, nutrition and lifestyle. She has taught and lectured at numerous universities, corporations and institutions, including NASDAQ, the Institute for Integrative Nutrition, the School of Visual Arts, St. John's College, Marymount Manhattan, Baruch College, the Atlantic Theatre Company and The Juilliard School.  She writes a regular column for New York Spirit Magazine, "Enlightened Sex in the City."
She has been in an exquisite relationship – "a co-created work of art" – with her boyfriend of five years. Her vast and varied experiences have served to clarify for her that intimate relationships are a powerful vehicle for extraordinary personal growth, and a sacred opportunity to dance with the biggest flirt of all, the divine.