Podcast: Download
Subscribe: Apple Podcasts | Spotify | Stitcher | RSS
What is the deal with all this testing from women?
In part two of our conversation, Alissa Kriteman shares an intense example of how she has tested her man and how his strength and ability to hold that deepened their relationship immensely.
Alissa shares with us some secrets that single men should know about meeting and attracting women and what role a healthy sense of self can play in finding a partner.
She gets into the very thing guys want to know about the most — What are we missing in the bedroom?
No, it's not about any elaborate technique or physical qualifications fellas. It's also not something we can "figure out" exactly.
She goes on to speak about the wisdom of desire, and encourages us to cultivate our ability to "be" with desire and allow it to subtly guide us in life.
Listen as Alissa lets us in on the world of women.
About Alissa Kriteman, Author of "Four Cornerstones for Living Your Dreams"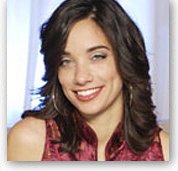 Show host, author and entrepreneur, Alissa Kriteman brings a sassy and bold approach to all that she does.  With a background as a Professional Life Coach and Relationship Expert, Alissa brings a wealth of insight and knowledge to her latest venture as the host of a hot, new podcast show, "Just For Women: Dating, Relationships and Sex" distributed by Personal Life Media, Inc.
Alissa appeared as "The Dreamer" on ABC's reality show "How to Get the Guy" and is the author of "Meet the Dreamer: Alissa's Four Cornerstones for Living Your Dreams" available on www.Amazon.com .  A smart and experienced go-getter, Alissa's innate desire for authenticity and "news you can use" allows her to confidently interview today's most innovative and passionate leaders about attraction, intimacy, sensuality, understanding men, being an empowered woman and alternative approaches to creating loving relationships.
A native of Boston, MA, Alissa holds a BS in Business Administration from the University of New Hampshire and a minor in Spanish from the Universidad de Granada, Spain. She began her corporate career in sales and marketing in the wine industry and headed west to the Napa Valley to promote prestigious wineries such as Far Niente and DeLoach Vineyards. Wanting to be more involved in the pulse of what was happening in San Francisco, Alissa took her expertise into the Advertising world as an Account Executive with Winkler Advertising.
Living in the Bay Area, a hotbed of personal transformation, Alissa became involved with Landmark Education and subsequently completed their entire curriculum of courses. She spent two years as a successful Introduction Leader as well as powerful coach for many of their programs. During her tenure with transformational work at Landmark, Alissa also began facilitating a dynamic workshop that celebrates the differences between men and women with her friends and course leaders, Kristine and John Catalina (www.manwomanmadeeasy.com ).  Continuing her desire to help awaken larger groups of people to the power that lies within them, Alissa accepted the role of Head Coach for a riveting, year-long personal growth intensive called The Wisdom Course, also offered by Landmark Education.
Alissa is presently a licensed, Intuitive Massage Therapist managing a successful private practice with her company, Sacred Spa (www.sacredspa.org ).  She also works part-time at Splash Spa in the five-star fitness center SportsClub/LA (www.mpsportsclubco.com ) in San Francisco.  She is a currently a student with Tinamit Junan Uleu (www.mayanshamanism.com ) a Mayan organization dedicated to bringing the shamanic wisdom of ancient elders to the world of today.
Alissa, an active yogini, enjoys meditation and kirtan and meets with a monthly women's circle focused on manifesting dreams into reality.  She loves to read, journal, swim in the ocean, snowboard, make music, see live music, and most of all, dance ~ to the amazing beats of DJ Lorin Ashton (www.bassnectar.net ).
Alissa's inquisitive nature and "no holds barred" approach to interviewing is a fantastic match for entertaining and educating the listeners of her show "Just for Women: Dating, Relationships and Sex." In this great new pod cast, Alissa is your advocate and guide,  going deep with guests as well as using her own personal experiences to share the gifts of being an empowered woman in society today.
She is available to speak on topics such as:
~ dating in today's modern world
~ understanding men
~ living a juicy life: how be an empowered woman.