Podcast: Download
Subscribe: Apple Podcasts | Spotify | Stitcher | RSS

Are you able to let mistakes you make become opportunities for something greater?
Wolfgang Bloch has always taken the unconventional path in life.
Born in Ecuador, he followed his passion to California and into the arts and graphic design. A surfer from the age of twelve, he was also cultivating a love of the water.
After a successful, but ultimately unrewarding career in commercial art, he broke free and eventually found his true passion…and learned to find art in life's imperfection.
Wolfgang tells us how "grunt work" can be seen as a "base" for our true expression and how to tell when it is just a dead end.
Wolfgang has gone on to become a renown fine artist in the surf world and beyond, creating mesmerizing surf vistas.
He has just released a book showcasing his work and chronicling his journey.
Listen as Wolfgang describes his uncommon path and the values that helped him rise to the top of the surfing art world.
Click here to learn more about Wolfgang Bloch's artwork.
About Wolfgang Bloch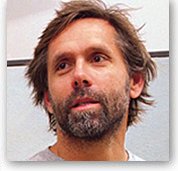 Wolfgang Bloch was born and raised in the vibrant Latin American culture of Guayaquil, Ecuador. At a young age, Bloch discovered the joy of surfing along Ecuador's secluded beaches and, in the process, the coastal scenery that would forever serve as his primary source of inspiration. In 1982, Bloch immigrated to the United States where he soon graduated with a Bachelor in Fine Arts Degree from the University of Florida and later a Bachelor in Design from the renowned Art Center College of Design in Pasadena, California.
After enjoying a decade of well-noted commercial success as an art director and illustrator, working for companies like Gotcha Sportswear, Quiksilver, Billabong USA, Jeep, Tower Records, Vans, Hobie and Indian Motorcycles, Bloch dedicated himself to his first love – painting. Wolfgang Bloch's art reveals much about the man who creates it. But the hints are subtle: The subdued palette, the modest and unexpected materials; all utilized to reduce traditional seascapes to their essence and in the process imbue them with compelling intensity.

Bolton Colburn, the director of The Laguna Art Museum calls Wolfgang's work "sublime and terribly romantic." Chronicle Books recently published Wolfgang's first book titled "Wolfgang Bloch: The Colors of Coincidence", designed by David Carson and written by Mike Stice. The book is an intimate and soulful account of the artist's rich and layered life, featuring the most evocative examples from his enthralling body of work. Over the past decade, Bloch's work has been exhibited in the pages of major international publications and on the walls of galleries and museums across the globe. Today, Bloch lives with his wife and two children in Laguna Beach, California.
Click here to learn more about Wolfgang Bloch's artwork.