Podcast: Download
Subscribe: Apple Podcasts | Spotify | Stitcher | RSS

In part 1 of our talk with Stuart Davis — rock star, buddhist monk and host of "Sex, God, Rock n Roll" — we hear how a "spiritual" guy can also be unapologetically rude and crude.
Stuart shares some hilarious stories about how he would rather be dead than conform to any means of authority — family, religion, school, day jobs and women's clothes included.
In this episode:
It's easy to be a punk and point out society's shortcomings — it takes skill to offer something constructive
His relentless pursuit of freedom has landed him in jail and almost killed him
Drummers aren't complete idiots (some of them at least)
How spirituality turned him into a self righteous asshole
How life can be enjoyable after the sparkle and "rush" has passed
What had him see the real meaning of his lifeBe sure to keep an eye out for Stu's latest TV show "Sex God Rock n Roll" on HDNET this summer.
About Stuart Davis, Musician, Artist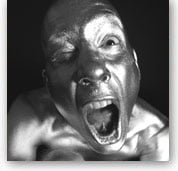 With eleven full-length albums to his credit, Stuart Davis has carved out a unique wavelength in the musical spectrum. Taking the topics of God, sex, and life and death, and crafting them into inimitable pop songs with lyrical flair and unforgettable hooks, Stuart continues to be one of the great, undiscovered singer/songwriters around.
In addition to his musical brilliance, Stuart is becoming something of a cultural force. With the support of devoted fans, in 1999 Stuart started his own record company, Dharma Pop Records (first called Post Apocalyptic Records), through which he has released four albums to date ("Bright Apocalypse", "Stuart Davis 2001", "The Late Stuart Davis", and the recent "Bell"). The same fan base has formed its own divinely mad community. These "Punk Monks" help promote Stuart's shows, run Stuart Davis websites, and generally spread the word of what has come to be known as Post Apocalyptic Punk Folk, or what we might simply call Integral Pop.
The multifarious Davis is also a published author, having contributed to the book Radical Spirit (New World Library). And he's a fictional character too, appearing in Ken Wilber's novel Boomeritis (Shambhala). His series of video road journals are a regular part of the Integral Naked website, a multimedia doorway to the world of integral awareness. Armed with one camera, two guitars, and multiple personalities, Stuart introduces us to the bizarre and beautiful world of life as a nomadic mystic. If that weren't enough, Stuart is forming his own actual language, called "IS." (For a taste of IS, listen to Stu's album "Bell".) In the moments when Stuart is not criss-crossing the country on tour, he lives in Boulder, CO, with his wife, Marci, and their daughter, Ara Belle, freshly manifest from the bardo realm.