Podcast: Download

We're back for Part 2 of our hilarious discussion with Stuart Davis — rock star, buddhist monk and host of "Sex, God, Rock n Roll".
In this episode we discuss:
A good woman will challenge and support you to be a better man in every area of your life
Becoming a father can crush any grand ideas you have about who you think you are
There is no such thing as an "un-spiritual" moment
Stepping into "the fire" of life and confronting your deepest fears
The significance of being able to laugh at yourself
How surrendering doesn't mean defeat
What happens when we resist our life
The amazing new pill, "Alco-hard"
The new TV show "Sex, God Rock n Roll"
About Stuart Davis, Musician, Artist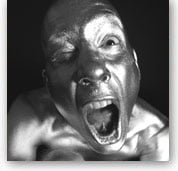 With eleven full-length albums to his credit, Stuart Davis has carved out a unique wavelength in the musical spectrum. Taking the topics of God, sex, and life and death, and crafting them into inimitable pop songs with lyrical flair and unforgettable hooks, Stuart continues to be one of the great, undiscovered singer/songwriters around.
In addition to his musical brilliance, Stuart is becoming something of a cultural force. With the support of devoted fans, in 1999 Stuart started his own record company, Dharma Pop Records (first called Post Apocalyptic Records), through which he has released four albums to date ("Bright Apocalypse", "Stuart Davis 2001", "The Late Stuart Davis", and the recent "Bell"). The same fan base has formed its own divinely mad community. These "Punk Monks" help promote Stuart's shows, run Stuart Davis websites, and generally spread the word of what has come to be known as Post Apocalyptic Punk Folk, or what we might simply call Integral Pop.
The multifarious Davis is also a published author, having contributed to the book Radical Spirit (New World Library). And he's a fictional character too, appearing in Ken Wilber's novel Boomeritis (Shambhala). His series of video road journals are a regular part of the Integral Naked website, a multimedia doorway to the world of integral awareness. Armed with one camera, two guitars, and multiple personalities, Stuart introduces us to the bizarre and beautiful world of life as a nomadic mystic. If that weren't enough, Stuart is forming his own actual language, called "IS." (For a taste of IS, listen to Stu's album "Bell".) In the moments when Stuart is not criss-crossing the country on tour, he lives in Boulder, CO, with his wife, Marci, and their daughter, Ara Belle, freshly manifest from the bardo realm.