Podcast: Download
Life coach to the stars, Kute Blackson is back on The New Man, and he's just in time.
Many listeners are dealing with a ton of fear these days — finances, career and the world in general all seem to be going to hell in a hand basket.
But what can YOU do about it, right now?
Kute walks us through a powerful 6 Step Process to cut the crap and make your life better — regardless of the world outside.
About Kute Blackson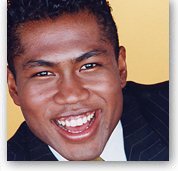 Kute Blackson is an extraordinary man, a man on a mission. He is known for his high energy, his cutting edge ideas, his dynamic and life changing presentations. Born in Ghana, West Africa, Kute experienced a diversity of cultures very early on, being of Ghanaian/Japanese heritage and having been raised in London. After deciding to move to America in pursuit of "The American Dream," Kute amazingly won a green card in the "DV-1 Green Card Lottery" where there were only a handful of winners amongst millions of applicants worldwide. Kute says, "Our thoughts create our reality – thoughts are the chisel that sculpt our destiny into tangible form."
Once Kute arrived in Los Angeles, he had no contacts, no college education, very little money, only two suitcases (one for clothes, one for books), and a burning desire to make his dreams real. Kute, is a living embodiment of someone who has overcome adversity, and thrived against all odds, which is what is his signature presentation "Leap and your Wings will appear!" is about.
Kute immediately started his own business while living in a tiny apartment, sleeping on the floor. During this challenging period in his life, Kute found solace in some of the 750 plus books he read as inspiration and fuel to keep moving past the quitting point. Although he had to ride the bus along Wilshire Blvd, he was driven by his tenacity and passion, and his business began to soar. Utilizing multi-level marketing as a vehicle to get off the ground, he was soon able to move on to his actual field of interest: speaking and coaching.
Known nationally as "The Transformation Coach," Kute is a certified hypnotherapist and "NLP" practitioner, assisting individuals and corporations in creating authentic change. He is also a radio talk-show personality, having had his own radio show called "Beyond Boundaries" on KYPA in Los Angeles. As founder and president of "The Blackson Group," Kute is a dynamic life coach, and inspirational speaker, having spoken to audiences internationally. For many years now, his unique message of empowerment, has inspired thousands, at companies such as: Century 21, TCG, Re Max, Prudential Financial Services, Washington Mutual, and many more.
Kute is also featured regularly on KTLA channel 5, sharing innovative, and practical ideas about personal growth and success. Nelson Davis, president of Nelson Davis Television Productions says, "Kute Blackson is a favorite contributor to our television program, 'Making It.' He brings focus and intensity to inspirational thinking that our viewers respond to. I think that he has the special ability to communicate excellent ideas." Kute is truly the speaker and coach for the "new generation!"
With his company "The Blackson Group," Kute is dedicated to the transformation of individuals, and corporations, from the "inside-out." Kute has created what some consider the ultimate coaching system, and presentations for corporations, in the area of peak performance and personal evolution. " My mission is to assist individuals and corporations, move 'Beyond Boundaries,' and live their deepest selves."
Kute resides in Los Angeles, CA, and lives life to the fullest.