Podcast: Download
Subscribe: Apple Podcasts | Spotify | Stitcher | RSS
Not many guitarists come close to having Vernon Reid's resume:
Grammy Winner
Platinum Selling Artist
Complete badass virtuoso in jazz, funk, r&b, metal, punk, etc.
Shared the stage and studio with Carlos Santana, The Rolling Stones, Public Enemy, etc.
He's a chameleon, but how does he escape categorization or the limiting beliefs that restrain so many people?
Where does he find "the juice"?
And how is playing with the Stones just as exciting as having his lost wallet returned?
Listen to this lively discussion where Vernon discusses having an open mind, finding your own voice, using mortality as inspiration and finding the "wild" moments in your everyday life.
In this episode:
Avoiding categorization — being put into a box
Keeping the focus on what you love
Marching to the beat of your own drum
Anthrax vs Burt Bacharach
Music is about diving into the human experience
Unique expression of "their moment"
Learning how to listen to music
Listen without judging
James Brown
The Beatles
The Rolling Stones
Dave Clark 5
Sly Stone
Jimi Hendrix
Carlos Santana
Frank Zappa
Music that black people listen to vs what white people listen to
Disclipline and practicing
At first playing was awful, frustrating
Little breakthroughs lead to big breakthroughs
Learning how to be with frustration
As a father seeing discipline in younger generations
Instant gratification vs hard work
Trying to remove risk from the equation of life
"Inside of your struggle is your sound"
Comfort and convenience can take away from your voice
Avoiding and distracting ourselves from mortality
Using mortality and frustration to live the moment
People want to avoid what sucks
Shortcuts mean no  individuality
Great people all struggled
Finding your voice without fixing it or perfecting it
Jeff Beck shows us how to be ourselves
The Edge from U2
Henry Rollins hates U2
Johnny Marr, The Smiths "How Soon is Now"
Walter Becker from Steely Dan
Having your own sound/voice is more important than technique
Realizing your own voice
Ronald Shannon Jackson Fusion — Jazz and Rock
Carlos Santana, John McLaughlin & Robert Fripp (King Crimson)
The Decoding Society
The Who "I hope I die before I get old"
Older men still in "the young man's" game of rock
The importance of living in the moment and projecting yourself into the future
Being fascinated with young people – prettiest, sexual peak
The only constant is change vs The more the things change, the more they stay the same
Science Fiction and his fascination with gear
Forbidden Planet & The Day the Earth Stood Still
Where's my Jet Pack?
The future was supposed to be dope
I want my hovering skateboard
The sexual culture is buckwild
How does life measure up to your dreams?
Having his wallet returned just as big as playing with The Rolling Stones
Hearing his daughter read
The "little stuff" is massive
It's about the wild moments
We're bored with life
Giraffes
Elephants are bad motherfuckers
We overlook the familiar
The quotidian things mean a lot
Mortality makes us live more
Being inspired by the people in our lives
The overemphasis of being results oriented
The danger of losing "the journey"
All the girls you ever slept with are going to pass away
We're only here for a little while
George Carlin
The planet is going to be fine
Really taste this moment in life
A last time for everything
Your last orgasm
About Vernon Reid, Living Colour Guitarist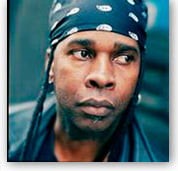 Guitarist Vernon Reid is best known as the founder of the groundbreaking African-American rock group Living Colour. But to recognize Reid solely for his Grammy Award-winning work as a rock musician would be to miss a rich and varied body of work that has extended into virtually every musical genre. Reid has played with artists ranging in style from Mariah Carey to Public Enemy, and from Mick Jagger to jazz guitarist Bill Frisell. He has undertaken a wide range of musical journeys, including the production of James Blood Ulmer's blues album at the legendary Sun Studios in Memphis, reuniting with Living Colour for a series of shows, and touring with former Cream front man Jack Bruce.
Reid's eclectic musical vision was fostered at a young age. Born in 1958 in London, England, Reid's family moved to Brooklyn, New York, when he was two. He grew up listening to rock and roll, soul, and even calypso music, an influence from his West Indian parents. As a young man, Reid's tastes gravitated toward the guitar heroes of the day–Jimi Hendrix, Eric Clapton, Jeff Beck, and especially Carlos Santana, who incorporated his own Latin heritage into conventional rock music. At the age of 15, Reid took up the guitar and soon gravitated toward jazz music under the tutelage of free form guitarists Ten Dunbar and Rodney Jones.
Reid's first band of note was drummer Ronald Shannon Jackson's experimental jazz-rock group Decoding Society. Throughout the 1980s Reid recorded four albums with Decoding Society and built a reputation for himself as a lightning-fast yet versatile guitarist. This notoriety in the New York music world led to his appearances on the albums of Defunkt, Bill Frisell, Jim Zorn, Mick Jagger, and Public Enemy, during the period from 1985 to 1987. But it was one of Reid's side projects that would make him a real star in the music world.
In 1983 Reid formed his own band, called Living Colour. The group started out as a hard rock power trio but changed and evolved through the years. By the time of Reid's collaboration with The Rolling Stones' Mick Jagger three years later, Living Colour had become a four-man unit and was regularly gigging at the New York rock club CBGBs. Though the group enjoyed some success in New York City, Living Colour had yet to record any original material. Jagger heard the group at the club and agreed to produce a demo for the band to send out to the big record companies. Jagger produced "Glamour Boys" and "Which Way to America," and sent the songs, along with the rest of what would become the group's first album,Vivid,to Epic Records.
Reid and his bandmates went on tour for 18 months to publicize and support the unreleased material. The all-African-American lineup of hard rockers created a buzz wherever they played. As a result of the tour and the accompanying publicity surrounding the group, Epic Records signed the band, and Living Colour burst onto the scene of mainstream rock radio, an arena traditionally dominated by white artists. Suddenly there was a black heavy metal band whose music included elements of jazz, rap, funk, and calypso stylings. The public's receptivity to these new musical blends was evidenced by the popularity of the record. One year after its release,Vividwent platinum, and the single "Cult of Personality" broke into the top ten. But a hit record was not enough for Reid. He andVillage Voicewriter Greg Tate formed the Black Rock Coalition (BRC) in the mid-1980s to help other African-American rock musicians. Reid wanted to use his stardom to help others. He toldRolling Stonein 1989: "It's not about 'Now we got through the door, close the door behind us.' What I hope our success is doing is encouraging other black rock bands to stick with it, because this is the result of six years of hard work. Other bands have told me our success is giving them the feeling that it's possible."
After the success ofVivid,Living Colour produced three more albums:Time's Upin 1990,Biscuitsin 1991, andStainin 1993. After the last album was finished, Reid found his professional and personal life changing. His first marriage fell apart, and he decided to break up Living Colour. The group's five-year stint as a band had yielded two Grammy Awards, two MTV Music Video Awards, and two International Rock Awards, along with over four million records sold. As a result of Reid's success with Living Colour he could live comfortably, but his band had dissolved, and that, along with his divorce, had taken away many of the trappings of his success.
Reid's next project was a 1996 album calledMistaken Identity,which Reid produced with a group of musicians who called themselves Masque. Reid toldGuitar Playerabout the fresh start: "Near the end of Living Colour there just wasn't any joy–there was a lack of humility on all our parts. On this project everybody was a close friend that I had a lot of respect for, and most importantly had a sense of humor. I just let myself have fun." Reid's new project left his rock background behind and combined elements of hip-hop and jazz while leaning heavily on cutting-edge technology. Soon after the release ofMistaken IdentityReid was nominated for another Grammy Award for Best Rock Instrumental, for a song he wrote called "Every Now and Then," which appeared on a Carlos Santana box-set. Reid then toured with one of his bands called My Science Project, and produced an album in Bamako, Mali, for African singer Salif Keita.
As Reid matured, he branched out even more, forming a band called Guitar Oblique with guitarists Elliot Sharp and David Torn. A series of his photographs became the subject of an exhibition in New York City titledFetishes, Moments, Mementos,and the eclectic artist also wrote a play.
But perhaps none of Reid's projects has been as dear to him as the Healing Hands Percussion Circle, which he formed in 2000. Reid saw a photograph of two victims of the civil war in Sierra Leone, whose hands had been amputated by rebel forces as a form of intimidation. Reid told theNew York Timesabout his motivation in forming the Healing Hands relief organization: "As a guitarist, the idea of the forcible taking of the hands is mind-numbingly horrific. The image was so striking, and what was happening was so beyond the pale, that I began to look into it." Reid brought together drummers for performances to raise money for the victims, and to bring to public consciousness the horrible conditions under which some civil war victims were living.
In addition to charity work, the development of his own projects, touring with rock legend Jack Bruce, and producing other artists' music–including a Sun Studios recording of James Blood Ulmer–Reid found time to reunite with his old bandmates. Living Colour got together again for a series of concerts in the spring of 2001. He also worked as producer on a record by blues singer James Blood Ulmer.
In 2003 Reid and Living Colour released another album,Collideoscope.Rolling Stonereviewer David Fricke wrote of the album, "Black-funk-metal pioneers return in righteous form." In 2004 Reid produced his second album with Masque,Known Unknown.According to Eric R. Danton in theHartford Courant,the album "embraces Reid's downtown avant-garde beginnings, with a mix of funk, jazz and experimental sounds on a dozen instrumentals." Reid told Danton, "Roots is roots. I think the Masque project, the Masque band, allows me to really utilize my guitar in a more upfront way and look at a lot of the same questions from a different angle from, say, Living Colour." In theBuffalo News,Jeff Miers wrote thatKnown Unknown"offers a dizzying instrumental tour through Reid's fertile imagination and the collective intensity of his cohorts."
While many observers view his musical journey with awe, Reid takes it all in stride. He told theNew York Times,"I was just a kid in Brooklyn, sitting on his bed with a guitar in my lap, and listening to Santana records or James Brown records or Mahavishnu records or Led Zeppelin records, and thinking, 'Wow!' And then, you know, I'm meeting Jimmy Page. It is not lost on me, the fantastic irony of it. Now, I basically want to just keep on going."
by Michael J. Watkins and Kelly Winters