Podcast: Download
Subscribe: Apple Podcasts | Spotify | RSS
Do you feel stuck in a job but don't think you could possibly survive as a your own boss?
Are you thinking, "If I follow my passion the money will just come!"
And is it really possible to connect your life purpose to the way you earn a living?
This week, Clay Collins is on the show to talk about how YOU can live your mission AND pay the bills.
So many guys make the sickening choice between following what they truly love and sticking with a job just to pay the bills. It's a tragic "either/or" scenario. Clay Collins has made it his mission to teach men how to build their own business online so that they can care for their families and live a life in alignment with their deeper purpose.
Clay brings up a strong point that in our today's culture where men lack a valid initiation into manhood, owning your own business will serve that purpose. We'll also talk about the myth of "If I follow my passion the money will just come", the danger of Job-ification and what you can do today to bring your life into alignment without having to live on the street.
Check out Clay Collins and Project Mojave here.
In this episode:
The Mission of Project MojaveFinanceYourFreedom.com
Quit your job, escape cubicle hell
Living into your full potential
Hoping a job will provide a sense of meaning/purpose
Hoping more education will provide meaning/purpose
There is no job that will "do it all" for you
Feeling like a f**k up
Stumbling in the workforce
Feeding your family while following your purpose
Guys are hesitant to take financial risks when they have a family
Do you follow your vision or do you feed your family?
Internet Marketing and Inner Game
What is a Freedom Business?
Helping people earn a living on the internet within three months
To free up time for personal growth, family, etc.
Freedom Business is a stepping stone to your Mission Business
Designed to work quickly and without much startup money
Information Products
We want a guarantee of success
We want the nuts and bolts of what to do
Testing your business idea
The Myth of: Do what you love and the money will follow
Being driven by opportunity
The need for a purpose in what you do
Being driven by what you love
How your Freedom Business serves your Mission
What is Job-ification?
How to keep from hating what you do
Lack of itinitation rites for men in our culture and becoming a man through business
Running a business will make you grow up
Mission Mindmap, Statement and Journal
Working on yourself is working on your business
"What is my purpose in life?"
"What do I need to do today so I can fall asleep tonight in peace knowing I have given everything?"
Check out Clay Collins and Project Mojave here.
About Clay Collins, Creator of Project Mojave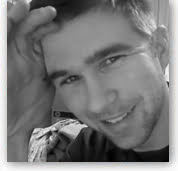 From Clay's website:
I am a fulltime internet marketer from Minneapolis who does business in three niches.
I aim to live my life in a way that is fundamentally oriented towards maximum contribution and making the world a better place.
I strive to live in a manner that renders this statement true: everything I do is oriented towards helping people generously feed their families while following their deepest purposes.
I have a vision for a world where every person can be their own boss and secure – at the very minimum – an $80K+ income while working from home. I have a vision for a world where people do not have to choose between being their own masters and feeding their families. And I pursue this vision because I believe entrepreneurship is one of the most powerful enablers of self-improvement.