Podcast: Download
Subscribe: Apple Podcasts | Spotify | Stitcher | RSS

What can YOU learn from a guy who lived the bible to its word for a year and THEN pretended to be hot girl online?
What if you never held back — you always SAID exactly what you were thinking?
And why should you — a grown man — considering taking a seat when you take a piss?
This week, author and human guinea pig AJ Jacobs is here to share what he's learned from living life as an experiment. AJ Jacobs is the Editor at Large for Esquire Magazine and the author of several best selling books including, The Guinea Pig Diaries, The Year of Living Biblically and The Know-It-All.
In this episode:
What is it like to be a hot chick?
What if you said EVERYTHING that crossed your mind to others?
What is it like to be totally whipped?
Should you piss sitting down?
How does your behavior change your thoughts?
What does George Washington have to do with your penis?
What's one, simple practice that'll make a huge improvement in your life?
Click here to learn more about The Guinea Pig Diaries: My Life as an Experiment by AJ Jacobs.
About AJ Jacobs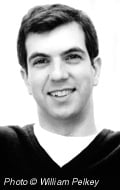 Jacobs is the editor at large at Esquire magazine and author of two New York Times bestsellers.
In 2004, Simon & Schuster published THE KNOW-IT-ALL. It subsequently spent eight weeks on the New York Times paperback bestseller list. It was praised by Time magazine, Newsweek,Vanity Fair, USA Today, Janet Maslin in the New York Times and AJ's uncle Henry on Amazon.com.
In 2007, THE YEAR OF LIVING BIBLICALLY was released. It has spent TK weeks on the NYT bestseller list, and was praised byPublishers Weekly, Kirkus Reviews, The New York Times Book Review, the Los Angeles Times, USA Today and others. It appeared on the cover of the evangelical magazine Relevant, but was also featured in Penthouse. (Jacobs is proud to be a uniter, not a divider).

In September of 2009, his new book — THE GUINEA PIG DIARIES: My Life as an Experiment — will be published by Simon & Schuster. The book contains some previously published experiments (including "My Outsourced Life," Jacobs' quest to delegate every task in his life to India). But more than half will be new — including life-changing quests featuring George Washington's rules of life, marital harmony, marital disharmony, multitasking and nudity (not in that order).
In addition to his books, Jacobs written for The New York Times,Entertainment Weekly, New York magazine and Dental Economics magazine, one of the top five magazines about the financial side of toothcare.
He has appeared on "Oprah", "The Today Show", "Good Morning America" and "Late Night with Conan O'Brien" (though Conan did decline Jacobs' offer to bring the remnants of his shaved beard in a plastic bag).
He is a periodic commentator on NPR's Weekend Edition Saturday, where he discusses important facts, such as the fact that opossums have 13 nipples.
The Year of Living Biblically is currently being developed by Paramount Pictures, and My Outsourced Life is being developed at Universal Pictures.
He's now working on a book called THE HEALTHIEST HUMAN BEING IN THE WORLD. It continues Jacobs' experiential journalism series as he tries to perfect his physical condition while simultaneously dissecting the meaning of the word "healthiest."
Jacobs grew up in New York City. His father is a lawyer who holds the world record for the most footnotes in a law review article (4,824). His wife works for a highbrow scavenger hunt called Watson Adventures. He lives in New York with his family. He wonders if he fooled anyone with this third-person thing, or if everyone knows that he wrote this bio himself.
Click here to learn more about The Guinea Pig Diaries: My Life as an Experiment by AJ Jacobs.