Podcast: Download
Subscribe: Apple Podcasts | Spotify | RSS
Have you ever wondered how you could screw up George Clooney's couch?
Is Arizona a great place to live in your car?
And what wisdom can you glean from a self-proclaimed liar slash pot-smoker slash homeless writer?
This week we're talking with Esquire Magazine's Chris Jones about George Clooney, Tiger Woods, Astronauts, John McCain, runaway NFL star Ricky Williams, the band Rush, your bed, your shoes and why you shouldn't THINK about things too much.
The tables are turned and the interviewer becomes the interviewee in this fun and surprisingly valuable discussion.
In this episode:
George Clooney, a couch and a missing gall bladder
The homeless writer (and girlfriend!) in Arizona
Landing a dream job at Esquire Magazine
Dissing Tiger Woods long before it was cool
How Astronauts are actually humans
Iraq and Sgt. Joe Montgomery
Behind the curtain with John McCain
The search for Ricky Williams in Australia
Carlos Delgado, your bed and your shoes
Is Rush a great band or the greatest band?
About Chris Jones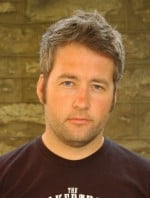 CHRIS JONES is a writer-at-large for Esquire and a contributing editor for ESPN: The Magazine. He began his career as a boxing writer for the National Post in Toronto, where he won the Edward Goff Penny Award, given to Canada's outstanding young journalist. In 2005, he won the National Magazine Award for Feature Writing for "Home," a story about three astronauts who were on the International Space Station when the shuttle Columbia exploded. In April, he won his second National Magazine Award for "The Things That Carried Him," a story that documented the return of the body of Sgt. Joe Montgomery from Iraq to Scottsburg, Indiana.
His work has also appeared in the Best American Magazine Writing, Best American Sports Writing, and Best American Political Writing anthologies.
He lives in Ottawa, Canada, with his wife and two young sons.