Podcast: Download
Subscribe: Apple Podcasts | Spotify | Stitcher | RSS
John Wesley of Porcupine Tree: The Rock Star / Single Dad
Do you think being a rockstar and performing in front of thousands every night is the dream life?
Is life on the road like an exotic vacation or groundhog day?
And what's it like to become friends with and perform in front of your musical heroes?
This week we're talking with John Wesley of the prog rock band Porcupine Tree. We'll find out what it's really like to be a rockstar AND learn how a single dad stuck to his guns to live an extraordinary life.
In this episode:
Being in the prog-rock band Porcupine Tree
Prepping for a tour
Life on the road — sleeping, eating and constantly moving
Being paid to play
Being a single dad and a rockstar
Why not just get a "real" job?
Why luck has nothing to do with success
Keys to a long and successful creative career
Why preparation is everything
Debunking rockstar myths
What jobs to take, which ones to leave
Spinal Tap moments
What can you learn from a rockstar?
Motorcycling with Neil Peart of Rush
Playing for Alex Lifeson of Rush
About John Wesley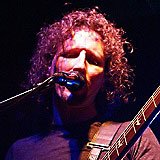 The music of John Wesley has been called lyrically sensitive and musically dynamic. Wesley's current brand of guitar-driven acoustic and electric songs represent the cultivation of a diversity of inspirations from alternative, progressive, classic rock and folk genres intertwined with poignant lyrics drawn from the poetry of the common man. Furthermore, his skillful, versatile and energetic guitar style complements with fury his soulful emotionally-charged vocals reminiscent of Roger Waters or Bruce Springsteen. But what really appeals to Wesley's fans worldwide is a spark of sincerity and sensitivity so oft absent in today's mainstream music.
Most recently, John Wesley has performed as sideman, guitarist/vocalist for critically acclaimed Lava/Warner Brothers UK based recording act Porcupine Tree, during the In Absentia and Deadwing world tours. In recent years he as performed lead guitars and background vocals for White Lion frontman Mike Tramp, subbed on lead guitar and bass for Gainesville's Sister Hazel, and as lead guitarist for Scottish neo-prog legend Fish on many lengthy European, American and South American Tours and on several US and European Solo dates.
John Wesley's professional music career began in the early 80's in the Tampa, Florida area where he founded 1991 Southwestern Music Conference's showcase act Autodrive. The following year Wesley embarked on a solo career and became the premier opening act for British rockers Marillion on seven consecutive tour legs around the world — especially North and South America, the UK and Europe — where he played for hundreds of thousands of fans. In 1998, Wesley embarked with ex-White Lion front-man Mike Tramp on an extensive tour as premier opening act for the prestigious Peter Frampton/Lynryd Skynyrd tour. Following this was several world Tours with Scottish artist Fish.  In 2001, John Wesley was the primary co-writer of Fish's Fellini Days album.
John Wesley began touring as guitarist and backing vocalist for Porcupine tree in 2002, and has is currently touring in support of the bands recent release, Fear of a Blank Planet.

Wesley's 1994 first album, Under the Red & White Sky, released on Racket Records quickly sold out it's first pressing of 10,000 copies and has been repressed in 1998 quickly selling another 10,000 plus copies. His second release, The Closing of the Pale Blue Eyes, also quickly sold out and has been re-released as a bonus disc on the NEW re-mastered Under the Read and White Sky disc. Wesley's third solo effort, The Emperor Falls, for former Music for Nations label magnate Martin Hooker's new venture, Dream Catcher Records in Europe, quickly sold out it's first printing. In 2002, Wesley released his fourth solo album, Chasing Monsters, in Europe on Dreamcatcher Records to great acclaim in the Euro Indy circles. In 2005, Wes produced and recorded his fifth studio release, Shiver, co-produced by Mark Prator, and mixed by Steven Wilson of Porcupine tree.  Wesley has toured the U.S. and Europe extensively to support his independent European releases – performing as opening act for Marillion, Fish, Porcupine Tree, Sister Hazel, and Blackfield.