Podcast: Download
Subscribe: Apple Podcasts | Spotify | RSS

Do you ever feel like your head is up your *ss?
Are you tired of feeling stuck and wish that a bolt of lightning would come down to change everything in an instant?
Or maybe you're wasting your life in some draining relationship or holding a grudge that is rotting your soul.
In this interview we're talking about epiphanies with Elise Ballard. What ARE epiphanies? And how can YOUR life be forever changed by one? Listen in as we discuss and tell our own very personal stories.
This is the Edgiest Show I've Ever Done
On a personal level, this is the edgiest show I've ever done. In this interview I share a story about my life that up until this point I had only shared with a handful of people.
In this episode:
Epiphanies and why they're important
How to find your inner voice
How to prepare yourself for an epiphany
What to do if you've had an epiphany
Ending a painful relationship
Letting go of a grudge
Click here to learn more about Epiphany by Elise Ballard.
About Elise Ballard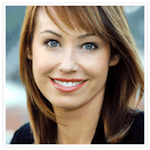 Elise Ballard is an actress, independent filmmaker and producer, the creator of EpiphanyChannel.com, and now, an author. Epiphany: True Stories of Sudden Insight to Inspire, Encourage and Transform is her first book. She started her career in entertainment working as an actress in New York, Austin, TX and Los Angeles, and moved into producing in Los Angeles as a partner in a production company that produced films distributed by Lionsgate and Monarch Entertainment. Her critically acclaimed directorial debut, Lord of the Wiens: A Dachumentary, a movie about the annual Wiener Dog Races in Buda, TX, became a cult hit, receiving considerable national press coverage, playing film festival circuits and PBS, and is still selling to lovely dachshund fans worldwide.

Since then, she has created, directed and produced numerous projects including BackStage: Behind the Scenes segments for Time Warner cable's Publik Music channel; FitPack, a series of short exercise regimens and viral ads by NYC celebrity trainer Joel Harper, and the YOU DVDs accompanying the YOU book series by world-renowned, bestselling authors, Drs. Mehmet Oz and Michael Roizen. She is currently in development on several projects, including more for EpiphanyChannel.com, film and television versions of the project, and future books for the Epiphany series.
Click here to visit EpiphanyChannel.com.
Click here to learn more about Epiphany by Elise Ballard.