Here's another preview of one of the topics explored in The New Man Life online training.
There are only four days left to sign up…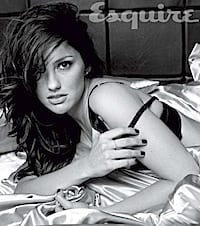 Now for the juicy topic…
Do you think talent is what brings success? What about skill? How about being "perfect"?
Regardless of what defines the success — family/friends, money in the bank, landing on the Moon, Minka Kelly's toothbrush in your bathroom, true satisfaction + fulfillment — there are two things that can damn near guarantee it.
I've watched talented men end up mowing yards.
I've watched really skilled guys end up taking orders their whole life. I've witnessed the ones who "got it right" end up drowning in their complaints.
And we know what happens to "nice guys". 🙂
On the other hand, I've seen guys without much talent, without much skill and without a need to be perfect do amazing things.
How can this be? It's simple.
These guys — The Badasses who get sh*t done and accomplish their dreams — have two things in common.
#1 — They have a vision: they have a specific, desired outcome.
And…
#2 — They have commitment: they're fully committed to make this desired outcome a reality.
The Bad*sses don't get mired in "being perfect." Good enough will do.
The Bad*sses don't hit the wall if they fail. When they fall off, they get back on.
The Bad*sses aren't attached to the path being a certain way. If the path is a dead end, they're flexible. They switch it up. They're focus is on what they want. Not how they will get there.
Yet there are many, many men I speak to who are exhausted from feeling stuck, spinning wheels and living in fear.
The common characteristic?
They're living without a vision of what they want and the commitment to follow through.
So how can you clarify what you want?
How can you galvanize those intestines to follow through?
Here's a little bit about how The New Man Life works…
#1 — When is it? Where is it?
It's a live phone call every week on Tuesdays at 8pm Eastern/5pm Pacific. You can call in from anywhere in the world. If you can't make the call. No problem. You can listen to the recording via MP3.
#2 — What's on the calls?
The big ideas and practical info that actually works. I've been teaching and coaching this stuff for years. This is what my clients use to get out of ruts and into gear. And you'll get it without paying the big bucks.
#3 — What about asking questions and interaction?
You'll be able to ask me questions directly. At least half the call will be dedicated to live Q&A and spontaneous coaching. You and other members will be able to talk with me directly and benefit from hearing about others' challenges as well.
#4 — What topics are covered?
The topics that matter. Each week will be centered around a specific topic: mindsets for success, avoiding traps, getting out of ruts, relationships, career/purpose and what you can do that will actually make a difference.
#5 — Is this just another boring, bland teleclass?
Far from it. It's going to be fun. I find most of this personal development stuff to be too dry and serious. We'll have a few laughs while helping you live a kickass — make that Badass — life.
PLEASE NOTE: The live course starts on September 20th. That's *this* coming Tuesday.
Click here to learn more, read what others are saying and register for the course.
I hope you'll be on the call next week,
Tripp
PS Feel the relief of knowing you're doing something good for yourself. Have fun in the process. The New Man Life online training starts Tuesday September 20th. Click here to register today.