Podcast: Download
Subscribe: Apple Podcasts | Spotify | Stitcher | RSS
Are you waiting on the perfect plan to emerge before making a change?
Is your life oriented around what you love or the expectations of others?
And what could you do over the next few months to positively kick yourself in the ass?
Today we're talking with Amelia Earhart about cutting the BS, doing what you love and of course, flying.
In this interview we discuss:
Fear of failure
Figuring out what you really love to do
Having the guts to orient your life around what you love
What to do if you don't have a plan
What you can do to get out of a groundhog day rut
Flying around the world
About Amelia Earhart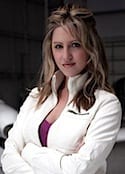 Amelia Earhart lives in Denver, Colorado, where she is a television reporter at KUSA, the local NBC affiliate. Amelia got her start as an airborne reporter, flying in a helicopter covering traffic and breaking news in Denver and Los Angeles. In addition to studying for her instrument rating in the Cirrus SR22, Amelia is working toward a degree in broadcast meteorology through Mississippi State University.
This will be the first of many planned long-distance flights for Amelia, all in preparation for her own attempt to circumnavigate the globe in a single engine aircraft. For more information on Amelia's flight training and the planning that has gone into this trip, visit her flight training blog at www.flywithamelia.wordpress.com.