Podcast: Download
Subscribe: Apple Podcasts | Spotify | Stitcher | RSS
If you were retired from the NFL and had a million bucks in the bank, would you join the Marines and go to Iraq?
Do you want to make a big change in your life but just can't figure out what or how to do it?
And how far would you go to find true fulfillment?
Today we're talking with Jeremy Staat about veterans and why in the hell he traded the good life for Iraq.
In this episode we discuss:
Going from the NFL to being a Marine in Iraq
Jobs and true fulfillment
Major life transitions and dealing with resistance
Terrell Owens' recipe for depression
Veterans awareness
About Jeremy Staat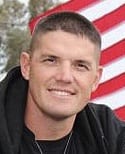 https://www.walltowallbicycleride.com
Jeremy Staat graduated from Bakersfield high school in 1994 as a four-year Letterman football player and three-year Letterman in track and field. In 1996 Jeremy attended Bakersfield junior-college where he continued to succeed enough to finish competing in both football and track and field. In the spring of 1996 he received a full ride scholarship to play football at Arizona State University.
In the fall of 1996, Jeremy met his new teammate and friend, Pat Tillman. While playing at Arizona State University Jeremy won multiple awards and played in the 1997 Rose Bowl game as well as the Sun Bowl in 1997. In 1998 Jeremy was drafted in the second round of the NFL draft and began his NFL career by playing for the Pittsburgh Steelers.
Between 1998 and 2003 Jeremy played for several teams and realized many of the harsh realities of playing professional football. However, by the end of 2003 he had played enough games to earn his retirement from the NFL in 2004 and began looking for the next transition in his life, during this transition rate in 2004 Jeremy found out that his good friend Pat Tillman left the NFL to join the Army and had been killed in Afghanistan. This tragic event caused Jeremy to begin a soul-searching quest that would ultimately lead him to a new team, and a higher calling.
In 2005 Jeremy decided that he would leave his football career behind him and that he would enlist in the United States Marine Corps. After completing boot camp his first duty station was in Hawaii with the 1st Battalion, 3rd Marine Division. Trained as an infantry machine gunner, Jeremy was deployed in March of 2007 to Haditha, Iraq when he was the lead turret gunner during numerous combat patrols. Whether they were traveling by vehicle or conducting a foot patrol, Jeremy was always leading the way.
Upon returning home in October 2007, he began to gear up and train for a second deployment, and then he had sudden attack of atrial fibrillation that sent him to the naval hospital instead. A 15 year football career and three years in the Marine Corps had taken quite a toll on his body. Eventually, in September of 2009, Jeremy was medically retired from the Marine Core and returned home to Bakersfield,California where he married his wife Janelle.
Although he was discharged and medically retired because of the conditon of his heart, that same heart he had internalized the "Service over self" attitude and in 2010 he began searching for opportunities to do motivational speaking across Kern County. It was during this time that Jeremy began to see the need to bring a new perspective by helping to turn around and educate our countries youth by speaking to them about what it is like to serve in the military and to be a Veteran.
In 2011 he founded The Jeremy Staat Foundation, which he describes as a foundation of inspiration and motivation. through the Jeremy Staat Foundation he desires to carry out its mission of providing a veteran based speaking board to go into our nation's schools and speak to the youth about what it is like to serve your country, and what it is like to be a veteran. To the generous support of sponsors and other donations this educational service will be provided at no charge to the schools.
Jeremy has partnered up with Wesley Barrientos and they are organizing a bicycle ride from the Wall of Valor in Bakersfield, Ca. to the Vietnam Memorial Wall in Washington D.C. The distance between the two is about 2,638 miles. Along the way they will visit as many Veteran Memorials, schools, churches, Veteran posts, sporting events, and speaking engagements as time and logistics will allow. This will likely extend the overall mileage of the trip well into the 4,800 mile range. The ride will take approximately 100 days. Together, their overall goal is to reach the Vietnam Memorial Wall by Memorial Day, 2012 for the 25th year anniversary of "Rolling Thunder" and the 30th year anniversary of the Vietnam Memorial Wall.
As an event of The Jeremy Staat Foundation, The Wall-to-Wall Cross-country Bicycle ride exists for the overriding purpose of raising awareness and support for our Nation's Veterans, Veteran organizations, Veteran suicide awareness, and to promote Veteran centers on all college campuses throughout our Nation. Given the fitness qualities that bicycle riding imparts, The Jeremy Staat Foundation has a secondary motive of drawing attention to the increase in childhood obesity, and most importantly how this epidemic can be prevented through good lifetime fitness activities, specifically bicycle riding.