The title alone is gritty enough. It seems to ask, "Well, do you really want to know?"
Amazing stories from the battlefield? Yes.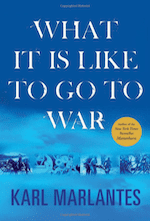 Gut wrenching tales of moral questionability? Yes.
Karl Marlantes wears his heart on a sleeve and carries his balls in a wheelbarrow.
Karl Marlantes looks back on his path of resisting the war, joining the war, fighting in the war, killing others in the war and then trying to recover from the war. He's done a ton of therapy. He drank whiskey with Joseph Campbell. He has somehow articulated his experience into this amazing read.
This book
is for anyone who thinks about being a man, raising a young man or wonders what it's like to be a smart guy doing unimaginable things for questionable reasons. If you've ever struggled to even understand men, this may answer some big questions as well.
Chances are, if you're battling some demon, you'll find solace in Marlantes's quest to befriend his own.
This book is bigger than war and war stories. It's really about living.
I want Karl on The New Man. Bad.
If you're reading this and can connect us, please contact me.
In the meantime, pick up this book.