Podcast: Download
Subscribe: Apple Podcasts | Spotify | Stitcher | RSS
If you oriented your life around what you enjoy, would you starve and lose everything that matters?
What is the single biggest secret to success?
And how can you navigate uncertainty in order to find your calling in life?
Today we're talking with former pro-surfer and guerilla humanitarian Jon Rose about fun, fear and how he found his calling in the devastation of an earthquake.
In this interview:
The one secret to success
Finding your calling
Career transitions
Dealing with fear and uncertainty in "the dip"
Following your fun
Thriving vs surviving
Figuring out what you love to do
From pro surfer to guerilla humanitarian
Jon's earthquake experience
About Jon Rose
https://www.wavesforwater.org/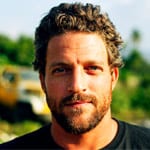 Pro surfer Jon Rose was aboard a boat off the coast of Sumatra during a surf trip in Sept. 2009 when he felt a slight shake.
He had no way of knowing that a 7.6 magnitude earthquake had destroyed the city of Padang – with more than 1,000 lives lost and 100,000 homeless – until he came to shore and saw the devastated city.
Jon happened to be en route to Bali to deliver 10 water filters for what would have been his first Waves for Water mission.  But with tragedy striking Sumatra, he made his way through the crumbled buildings in the early hours after the quake to get water filters into the hands of rescue workers to help the overwhelmed country and wounded victims in need of clean water.
It was at that moment Jon's life would change – and in turn, so would the lives of others who would soon have access to clean water. The eye-opening experience solidified the need for Waves for Water, a non-profit organization aimed to bring clean water solutions to impoverished countries around the world.
Jon's father, Jack Rose, had started "Rain Catcher", a nonprofit organization which helps educate villages in Africa on how to catch and filter rainwater. Jon began to wonder, " Why can't this be done in all the surf regions where many of us travel but leave the land no better than how we found it?." Jon knew in his heart that surfers would give back if they only knew how.
Not long after, tragedy had hit Haiti. The devastating earthquake killed more than 200,000 people and injured 250,000 more. Jon quickly teamed up with actor Sean Penn, to work with the United Nations in getting water filters distributed from military bases into communities in distress. To date, they have brought 11,000 small, portable filters to Haiti (clean water for more than 100,000 people.) Jon continues his efforts in Haiti and around the world, engaging and educating communities in need.
When an 8.8 earthquake hit Chile and sent a devastating tsunami crashing ashore, Jon trained and armed big-wave riders Greg Long, Chilean native Ramon Navarro, and Kohl Christensen with ceramic filters to help people whose water sources had been completely cut-off. The group, working alongside Save the Waves, who distributed over 1,000 filters to devastated communities.
The Waves for Water objective is to identify the problem and quickly connect an existing user-friendly solution. The long-term goal for Waves for Water is to be proactive, rather than reactive. There is no reason anyone should die from lack of clean water… people have already done the hard work and have developed technology solutions that help eliminate senseless deaths. It is our job to make sure that technology solutions and quality education are in the hands of those in need. Individuals who are traveling to poor nations can easily eliminate the distribution challenges most bureaucracies face in philanthropic aid programs. It's guerrilla humanitarianism at the core, and it works!