Podcast: Download
Subscribe: Apple Podcasts | Spotify | Stitcher | RSS
Have you ever had a goal that scared the crap outta you?
Do you use your age, family or responsibilities as excuses for giving up on your dreams?
And what's worse — failing or regretting that you never tried?
Today we're talking about how to go after that crazy, bold idea that just won't go away. Bill Whiddon just spent 17 plus hours crossing the open ocean on a stand up paddleboard — and he's 58 years old.
In this interview:
— Bill's story of paddling 60+ miles for 17+ hours across the open ocean
— Keeping a bold idea alive
— Picking battles you can win
— Committing to the goal
— Hitting the wall
— Lone wolves are dead wolves
— Fear of failure vs regret of not trying
— Staying on purpose
— Finding inspiration
Here's a short documentary about the Bimini Blue Water Challenge.
About Bill Whiddon
https://www.facebook.com/BiminiMiamiBluewaterChallenge
Surfrider Miami Chapter — Rise Against Plastics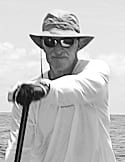 Bill Whiddon is a stand up paddle board (SUP) enthusiast and competitive racer.  Rumor has it that he's an award winning creative director for AdLab in Miami.