PLEASE NOTE: This is in service of an adult conversation using adult language. If you're easily offended, you have the option to stop reading now.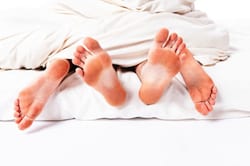 Tequila aside, it's been said that a woman knows if she'd have sex with a guy in a matter of minutes, if not seconds. Many guys will want to reduce this down to external factors like body fat percentage, clothes he's wearing, the car he's driving, etc.
My advice? Wake up, cave-boy.
What this idea really says is that she knows what it would be like to be with you in the sack by simply watching how you treat her, other people, and the world. How you're navigating and interacting with the world is an indicator of how you'd be in bed.
In other words — You're always fucking.
Interesting idea, huh? Let's play with it. Let's play with the idea that how you engage "the world" — how you live your life — is an extension of how you engage your lover.
So what is "the world" to you?
Is it a place:
To prove yourself?
To win and be better than others?
To impress or be perfect?
To be productive?
To be in control?
To avoid uncertainty?
To please others?
To tolerate?
To defend?
Or is the world a place…
To explore?
To play?
To serve?
To reciprocate?
To be curious?
To be passionate?
To get messy?
To let go of the agenda?
To be spontaneous?
To express?
To laugh?
To love?
Many guys I meet on this path of personal development are fixated on progress and "hacks" and optimization and productivity and potential and doing more and — you get my drift.
And I gotta admit, I don't have to imagine what sex would be like with this person
…it's already a drain to be with some of them.
I really hope that these guys aren't mind-mapping their agenda to "do all of the positions" or achieve a specific number of climaxes in order to reach their bedroom potential. It sounds miserable to me, but I imagine there's a fetish for that, too.
I want to be clear that I'm not advocating a life lived solely by and for your d-ck.
But I am asking, what if we integrated more of the qualities typically reserved for the bedroom into our work, relationships, community and spirituality?
So I'll leave you today with two simple questions:
How do you want to fuck?
And how will you live like you fuck?
Have a great fucking week,
Tripp
PS If you're serious about getting clarity, direction, accountability…
If you're serious about beating resistance, taking action, and doing what you love…
If you're serious about working together — you and me, one on one — then click here to answer a few questions and we'll set up a time to discuss what's possible.
.