Podcast: Download
Subscribe: Apple Podcasts | Spotify | Stitcher | RSS
Are you just not that into her?
Do you ever nitpick how she looks?
And does her physical appearance keep you from taking the relationship deeper?
Cynthia Stadd is here to share her feminine perspective plus practical insights about how to address the most dangerous discussion — a woman, her body, and your attraction.
In this interview:
Why you're not that attracted to her
When her appearance means you should leave
When her body is actually your problem
How to address your concerns about her body
What you're doing that's killing attraction
Feeling trapped
Why trying to fix her is a huge mistake
Understanding why some women are so stressed about their bodies
Click here to learn more about Cynthia and her work.
About Cynthia Stadd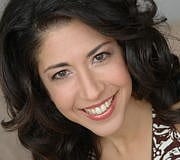 Cynthia is a pioneering practitioner and coach, committed to sleuthing right down to the core of people's concerns around food, body, weight and common health concerns.  With a "tenderness meets take-action-now" style, she works with people privately, leads groups and talks to just about anyone who thinks nutrition and psychology are cool.
Cynthia has been a professional in the nutrition industry for over 11 years, and Eat Empowered, LLC is her second business adventure.  The first, Cynfully Healthy, was founded in 2003 as a private practice in Manhattan, serving a wide variety of clients seeking nutritional counseling and lifestyle coaching.
In addition to running Cynfully Healthy,  her New York City romp included 3 years as the Director of Nutrition Services for a holistic center providing acupuncture, herbs, yoga and stress reduction techniques to treat infertility and reproductive disorders.
During this time, Cynthia honed in on her flair and passion for teaching by speaking to groups large and small all over the metro New York area.  She has appeared in magazines, local TV programs, and had her own nutritional/wellness column on https://elasticwaist.com.
Once Cynthia landed in Boulder, CO, she worked very closely with Marc David, master Nutritionist and expert in the field of Eating Psychology.  She had the great pleasure to assist him in launching The Institute for the Psychology of Eating in Boulder, CO.  She served as Senior Educator for the Institute and Business Coach for new practitioners for a couple years.  Please visit https://psychologyofeating.com for more information.