Podcast: Download
Subscribe: Apple Podcasts | Spotify | RSS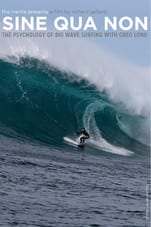 Are you waiting to get your confidence up before trying something scary?
Do you feel like you need to hide your fears from yourself and the world?
And how does avoiding risk zap your energy and kill your enjoyment for life?
Big Wave World Champion Surfer Greg Long nearly drowned and then went Christmas shopping the very next day. While his body may have recovered quickly, his fears and confusion about living took a far greater toll.
In this interview:
What it's like to drown in huge surf at Cortes Bank
What to do when you lose your fire
How to take the power away from our fears
Why the best preparation in the world won't protect you from getting knocked around
Why avoiding risk and fear is killing you
Plus…
How ego keeps us playing small
The trap of attaching our identity to what we do in the world
Getting stuck in jobs or relationships that don't serve us anymore
Controlling our thoughts
Letting go of negative feelings
Click here to learn more about Sine Qua Non: The Psychology of Big Wave Surfing with Greg Long.
Photo credits: A-Frame Media (banner), Seth Migdail (bio)

About Greg Long — Big Wave World Champion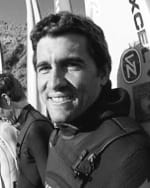 Greg Long is prepared. He is always prepared. Whether he is eating straight veggies, studying Internet swell charts, or swimming laps in the pool; Long remains stretched, loose, and strong enough to hop a plane in a moment's notice and drop himself into situations that would cause about 99.9 percent of the world's surfers to drop a load in their baggies. We're not talking about your basic big surf. Instead, Greg Long scours the globe for giant, unpredictable, violent nature and more often than not, he is paddling in to it. From California to South Africa to Mexico to Hawaii the SoCal regular foot has won contests in conditions ranging from 3 to 40 feet, has helped redefine what is surfable, has railed against environmental villains, and has proven what training and positivity can achieve in the sport of surfing.
Born in 1984 and raised in San Clemente, California, Greg learned to surf at 10 years old. His father Steve served as a San Clemente lifeguard who helped his son understand the ocean and consequently make him comfortable in bigger surf. He told Inertia Magazine, "My father was a lifeguard for 38 years. He introduced us to the ocean before we could walk. As we grew up, he instilled every ounce of ocean knowledge that he had into us. Because of this, I always seemed to feel comfortable in the ocean no matter the conditions."
Long started surfing contests at 12 and immediately showed promise among the highly competitive southern California surf scene. Meanwhile, local big wave surfer Jon Walla began mentoring young Long in more consequential surf. Meanwhile, he continued to compete in smaller waves, capping his amateur career with a win at the NSSA National Championships in 2001. He took the highly competitive Open Men's division which in past was won by Andy Irons and Kelly Slater. But instead of slogging it out with the rest of struggling pros on the grueling World Qualifying Series,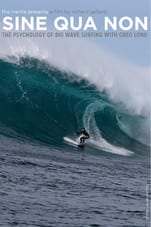 Long embraced his passion for big wave surfing by emulating surfers like Laird Hamilton and Garrett McNamara by jumping headlong into a career chasing the world's biggest swells. Results came quickly, while still a teenager in 2003, Long won the Red Bull Big Wave Africa. He finished second at Mavericks in 2005 and then won it in 2008. The same year, Long was invited to the Eddie Aikau event at Waimea Bay. He has been a staple at the Billabong XXL Global Big Wave awards, garnering the 2005 "performer of the year" award in 2005 and the "Biggest Paddle-in Wave" and in 2007 "Biggest Wave of the Year." The same year, Long made headlines when he was knocked off his board by 8-10 foot tiger shark at Rocky Point. This event may have rattled his nerves, but it didn't dampen his amp. A few miles up the beach in 2009, Long made history when he won the prestigious Eddie Aikau event.
Today, Greg Long is one of the world's most recognizable big wave surfers, synonymous with bleary-eyed missions in the dead of night, pulling jet skis and lugging stacks of boards to desolate beaches with hopes of meeting the peak of hellish swell events. He has broken the confines of the provincial surf media and has staked a claim in the adventure sports arena. Magazines like Men's Fitness and Outside have followed his exploits and Hollywood films like Chasing Mavericks have sought his skills for stunt work. In addition, using his hard earned celebrity for good, Long became involved in the Surfrider Foundation, Wildcoast, and Save the Waves. Additionally, Long focused his efforts on Baja, Mexico when a natural gas facility ruined a classic big wave surf spot in the area.
Counting such insane big wave venues as Mavericks, Todos Santos, Jaws, and the elusive Cortes Bank as "favorite" breaks, Long has proven himself one of the most pure talents in big wave surfing. With a low-key yet obsessive commitment to paddling surfing reminiscent of 50's and 60's chargers like Pat Curren and Greg Noll, Greg Long has become revered and respected by multiple generations of surfers. Of his career choice, Long says, I surf big waves because I love it. Simple as that."
Click here to learn more about Sine Qua Non: The Psychology of Big Wave Surfing with Greg Long.