Podcast: Download
Subscribe: Apple Podcasts | Spotify | Stitcher | RSS
Are you a member of The New Man Life yet?
https://TheNewManLife.com
Who knew spiritual retreats could be so funny or disgusting?
And what if the most valuable skill is the ability to laugh at yourself?
Today my buddy Ray and I look back on our years as retreat junkies. We were the jackasses — the Johnny Knoxville and Wee-man of personal development. Join us as we share some of our most humiliating, unflattering, and disgusting stories along the road to becoming better men. After listening to this, I'm not so sure we've evolved all that much.
A little warning: If you're sensitive to immature guy humor, bodily functions, or just plain silliness then please sit this one out. If you're able to appreciate the humor in all areas of life, then come along. Have some fun at our expense.
In this interview:
Spiritual retreat disasters
10 Day Goenka Vipassana meditation retreat sex and gas
David Deida (Way of the Superior Man), Sounds True, and talking dirty
Painting with your nipples – Somatic Archaeology
Plus:
Boobs, telepathy, and Peruvian "medicine" or Ayahuasca
The dirty backend of a Kava ceremony
Nude men's work and men's circles
Tripp finds his calling while a guy throws up off a building
About Ray Brejcha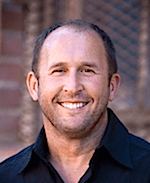 A Silicon Valley sales professional, seminar leader, speaker, and coach that is passionately devoted to inspiring men in leading an authentic life. Ray's approach to teaching and coaching is grounded in his commitment to meditation, yoga, health and a deep understanding of masculine/feminine dynamics. He draws upon diverse experience working in Silicon Valley as a top sales executive for over 17 years, with the Peak Potentials Organization as a skilled Success and Results coach, as a course facilitator for The Mankind Project, Authentic Man Program and the Red Pill Weekend. He was also a competitor on the TV show, "American Gladiator".
Ray presents powerful courses and offers one-on-one sessions for men designed to help them create wildly fulfilling relationships that are fun, deep and meaningful… all based on you just simply being and expressing yourself more fully and authentically. He also offers one-on-one sales coaching for men that want to attain greater levels of professional success. He brings a fresh, engaging, warm and witty style to his coaching and facilitation along with the powerful gift of presence.