Podcast: Download
Subscribe: Apple Podcasts | Spotify | RSS
Do you think you can solve money worries simply by making more money?
Do you think you need to struggle and endure self-criticism and pressure in order to be happy?
And what's the most effective way to regain a sense of control when things get bumpy?
Michael Neill is a world renowned transformative coach and best selling author. Today we're going to talk about some of the life changing ideas in his books The Inside Out Revolution and The Space Within.

A note about this interview:
After coaching for over a decade, I've noticed that many people still aren't happy, peaceful, or fulfilled after they create the circumstances they thought they always wanted in life. This tells me that while we may be working and worrying about the circumstances in our life — it's our beliefs and our thinking that may need to be examined most.
I asked Michael Neill to come on the show and discuss these topics because he addresses this head on. He challenges the way we think and view our lives and our problems. And it's not always comfortable. His solutions don't always seem practical.
That said, give this interview a listen and see if any of the problems you're facing right now might simply be recurring beliefs and thoughts instead of the circumstances in your world.
In this interview:
Dealing with money scarcity
The most effective way to feel in control
Recognizing what is really stressing you out
Beating yourself up in order to be successful
The guy who makes 7 figures who is worried about money
Click here to learn more about Michael Neill's book The Inside Out Revolution.
Click here to learn more about The Space Within.
About Michael Neill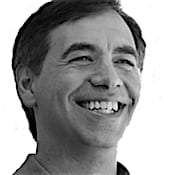 Michael Neill is an internationally renowned transformative coach and the best-selling author of The Inside-Out Revolution, The Space Within, You Can Have What You Want, Supercoach, and both the Effortless Success and Coaching from the Inside-Out self study programs. He has spent the past 25 years as a coach, adviser, friend, mentor, and creative spark plug to celebrities, CEOs, royalty, and people who want to get more out of themselves and their lives.
He is also the founder of Supercoach Academy, an international school that teaches people how to coach from the inside out. Michael's books have been translated into 16 languages, and his public talks, retreats, and seminars have touched and transformed lives at the United Nations and on six continents around the world.
Click here to learn more about Michael Neill's book The Inside Out Revolution.