Podcast: Download
Subscribe: Apple Podcasts | Spotify | RSS
Kamau Bell United Shades of America
Can you imagine sitting down with your arch enemy to hear their story and have a few laughs?
What's the difference between racism and prejudice?
And do we really need to tip-toe around folks so that they don't get offended?
W. Kamau Bell from the CNN show United Shades of America is here to discuss his experience with the KKK, political correctness, and what you can do so we can all get along.
In this interview:
How to have awkward conversations that initiate change
The difference between racism and prejudice
Focusing on problems vs solutions
How humor can stop an argument
The power of owning your ignorance
What to do when you get uncomfortable
Knowing when to offend people
Patton Oswalt, Tracy Morgan, and Katt Williams
Is Denzel Washington really the greatest actor of all time?
Check out Kamau Bell on The United Shades of America which airs on CNN. He's got a comedy special Semi-Prominent Negro on Showtime and also be sure to listen to his podcast entitled Denzel Washington is the Greatest Actor of All Time. Period.
About W. Kamau Bell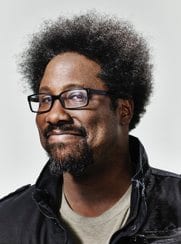 W. Kamau Bell is a sociopolitical comedian based in The People's Republic of Berkeley, CA. Kamau is the host of the CNN docu-series United Shades of America, which premieres on April 24th. Kamau is best known for his critically acclaimed, but criminally short-lived FX comedy series, Totally Biased with W. Kamau Bell. Kamau is also proud to be the ACLU's Ambassador of Racial Justice. Although he's pretty upset that they didn't give him a badge along with the title. Kamau sits on the advisory board of Race Forward, a racial justice think tank, and Hollaback, a non-profit movement to end street harassment.
The New York Times called Kamau "the most promising new talent in political comedy in many years." And Salon.com listed Kamau on their "Sexiest Men of 2012" list, calling the series "surreptitiously revolutionary in its effortless diversity and humanism." The New Yorker said, "Bell's gimmick is intersectional progressivism: he treats racial, gay, and women's issues as inseparable." The San Francisco Chronicle raved, "it makes The Daily Show seem like something your dad watches."
In its brief time Totally Biased was nominated for both an NAACP Image Award and a GLAAD Award. Totally Biased was executive produced by Chris Rock, who became a fan after seeing a performance of Kamau's one man show, The W. Kamau Bell Curve: Ending Racism in About an Hour. Kamau still performs that show at colleges across the country. He's especially busy with it in February.
Kamau has released two stand up comedy albums: One NIGht Only and Face Full of Flour. Face Full of Flour was named one of the Top 10 Best Comedy Albums of the year by iTunes and Punchline Magazine. Kamau has recently signed with Kill Rock Stars who plan to to release his next stand-up album as an actual album! (It'll be available as zeros and ones also.)
Kamau has appeared on various Comedy Central programs (including @midnight and John Oliver's New York Stand-up Show), HBO's Real Time with Bill Maher, Conan, WTF with Marc Maron, The Rachel Maddow Show, The View, Fresh Air with Terry Gross, Henry Louis Gates Jr's Many Rivers To Cross, Bullseye with Jesse Thorn, The Treatment with Elvis Mitchell, The Nerdist, and This American Life, among others. And yes, he will do your podcast if you ask him nicely and if he has the time.
His writing has appeared in VanityFair.com, Salon, MSNBC.com, Buzzfeed, and The Hollywood Reporter.
These days Kamau might be most excited about his weekly podcast with fellow comedian Kevin Avery entitled Denzel Washington is The Greatest Actor of All Time Period. They are reviewing every Denzel Washington movie in mostly alphabetical order in hopes of proving… well, you read the name already. The podcast has also featured interviews with Spike Lee, Ava DuVernay, Ryan Coogler, India Arie, and many more. The podcast has been listed on Entertainment Weekly's Must List, and it has been featured several times in the AV Club. Fast Company Magazine put Kevin and Kamau on their list of Innovative Podcasters. Essence Magazine listed it on their Top Ten Podcasts Every Black Woman Should Hear. You can listen at to DWITGAOATP at Earwolf.com and every other place that you find podcasts.
Praised by Punchline Magazine as "one of our nation's most adept racial commentators with a blistering wit," Kamau was voted San Francisco's best comedian by the SF Weekly, the SF Bay Guardian, and 7×7 Magazine. Robin Williams called Kamau "ferociously funny," The New Yorker said, "Bell's gimmick is intersectional progressivism: he treats racial, gay, and women's issues as inseparable." The SF Weekly called Kamau "smart, stylish, and very much in the mold of politically outspoken comedians like Dave Chappelle," though he was more excited that they called him "handsome."