Podcast: Download
Subscribe: Apple Podcasts | Spotify | RSS
The Subtle Art of Not Giving a F — Mark Manson
Do you ever feel like you must be living your life the wrong way?
Do you compare yourself to others and then feel like shit because you believe they have something you don't?
And is it possible that your frustration may be rooted in a hidden belief that you're entitled to more than you're getting?
Mark Manson wrote a book called The Subtle Art of Not Giving a F. He's here to tell us why many believe being average is a failure and why we'd be better off if we weren't so focused on being so special.
In this interview:
What the title of his book really means
"Don't be special. Don't be unique."
Do you have bad values that are driving you nuts?
Why striving for a positive experience creates a negative experience
Plus:
Why learning how to accept negative experiences is the path to what you truly want
Using personal development to escape negativity and vulnerability
"If life is hard then I must be doing it wrong"
How to tell if you're entitled
Click here for Mark's book The Subtle Art of Not Giving a F: A Counterintuitive Approach to Living a Good Life.
About Mark Manson
From Mark's site: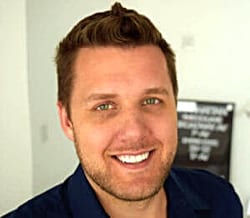 WHO THE HELL ARE YOU AND WHY SHOULD I TAKE YOU SERIOUSLY?
Just some guy who reads a lot. And don't take anything I say seriously. Unless you want to, of course. But the point is to think for yourself. If you like some of the things I say, great. If not, that's fine too.
But, to answer your question, my name is Mark Manson. I'm 32 years old. I grew up in Austin, Texas. Went to school and lived in Boston. Traveled and lived all over the world for about seven years. Now I live in New York City. I enjoy cats and whiskey, although not at the same time.
SO, WHY DO YOU WRITE ABOUT ALL THIS STUFF?
Most of what I write is written for myself, first and foremost. I don't share these ideas because I think I'm right and other people are wrong. I write them because I think I'm wrong, and correcting my own misjudgments on a public platform seems to help out a lot of other people in the process.
HOW WOULD YOU SUMMARIZE YOUR PHILOSOPHY?
We're all wrong about everything, some just a little less wrong than others. Everything sucks some of the time, and that's OK — happiness is learning how to appreciate the struggles in your life. There are more stars in the universe than grains of sand on the planet, you couldn't be special even if you wanted to be, so stop trying to prove yourself all the time. Trying to prove something to yourself and others is the root of most misery.
Life is about solving problems. Therefore, learn how to pick good problems. Avoiding problems just makes everything worse.
Human emotions are flawed. Always be skeptical of yourself, no matter what. Let go of your identity, you don't really know who you are, nor should you. Sex is good. As long as it's done consciously and for emotionally healthy reasons. So F your brains out. Appreciate love, but understand there are things more important than love.
Conflict is inevitable and often necessary. Sometimes things need to be broken before they can be made better.
IT SAYS YOU'RE AN AUTHOR, HAVE YOU WRITTEN A BOOK?
Yes, two, in fact. The Subtle Art of Not Giving a F: A Counterintuitive Approach to Living a Good Life came out in 2016 and has become a big bestseller (NYTimes, Wall Street Journal, etc.). It basically talks about what we choose to find important in life and why it matters. Mainly because life sucks sometimes, and if we don't care about important things, then we're going to get steamrolled by all the little things.
Click here for Mark's book The Subtle Art of Not Giving a F: A Counterintuitive Approach to Living a Good Life.