Podcast: Download
Subscribe: Apple Podcasts | Spotify | Stitcher | RSS
How to Be Ultra Spiritual with JP Sears

When was the last time you laughed at yourself for being a moron?
Do you feel powerful when you lash out at someone who has offended you?
And what makes judgmental people awful people?
Enlightened author, coach, and YouTube comedian JP Sears is here to talk about laughter, getting offended, and how you can be better than everyone else.
In this interview:
Why getting offended is therapeutic
The sexy truth about Tantra and Acro Yoga
How to tell if you have a "junk food purpose"
Why you should bury your feelings and stop being needy
Why you need a male guru
Click here for JP Sears book How to Be Ultra Spiritual: 12 1/2 Steps to Spiritual Superiority.
About JP Sears
From JP Sears Website: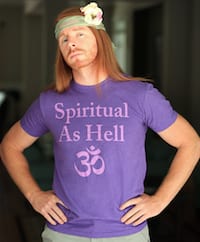 I'm an emotional healing coach, international teacher, world traveler, and curious student of life. My work is intended to empower people to empower themselves to live more meaningful lives.
I run a very busy one-on-one client practice (most sessions are via skype) where I'm fortunate enough to work with people everyday on healing their hearts, resolving self-sabotage, and stepping into their true power.
I also lead retreats around the world on different healing and personal empowerment themes for like minded and like hearted people to come together and learn, grow, and heal.
I also make videos. I'm very active on my YouTube channel, where I regularly release videos to help people help themselves. I also make comedy videos known as my 'Ultra Spiritual' series. Aside from the entertainment value of these humorous videos, they also carry important underlying messages (at least I think so, but I'm biased because they're my videos).
And if the formal credential side of things is important to you, I hold certification as a Holistic Coach Advanced Practitioner through the Holistic Coaching Institute in Columbus, OH. I also served as a faculty member for the C.H.E.K. Institute from 2006-2013. Most importantly, I have red hair, blue eyes, a caring heart, and a warped sense of humor.
Click here for JP Sears book How to Be Ultra Spiritual: 12 1/2 Steps to Spiritual Superiority.