Podcast: Download
Subscribe: Apple Podcasts | Spotify | Stitcher | RSS
Why Most Guys Don't Get Stuff Done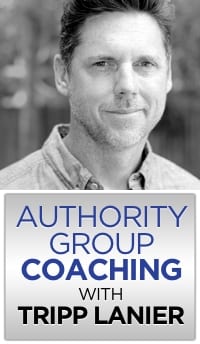 This is part 3 in a short series where we're learning why most guys stay stuck on some plateau in life and why a rare few are able to level up. This is all included in the Authority Group Coaching Program that starts in October. You can learn more by clicking here.
Today let's talk about mission; and specifically why some guys will feel like they're going nowhere no matter how hard they work, and why others are able to be effective instead of busy.
First — How can we spot a guy without a clear sense of mission?
He's the guy that spends everyday just getting by, putting out fires, hoping that "one day" things will magically ease up and give him permission to make a change.
He may be very busy, but if you were to look at what he's accomplished over the last year you'd see that he's not making progress on what really matters to him.
When you ask him what he truly wants to create with his life he uses vague language or shit that sounds good but doesn't mean anything like, "I want to make a difference or I want to make the world a better place." There's no real way to tell what that means or if he was being effective.
And when he's feeling stuck he asks questions like, "Why can't I get my shit together?" or "Why can't I be more disciplined?"
We can contrast this with a man that understands what makes him feel alive, fulfilled, and connected with the people he loves.
What about the guy who has dialed in his sense of mission?
When you ask him what he wants, he's able to articulate what he's currently creating.
He's got a clear objective. He's focused on what will move the needle forward.
Instead of being scattered or frantic from juggling so many balls in the air, this guy's life is clear, aligned, and effective.
He's focused on what really matters and doing the things that really work.
He's bold enough to say "no" to the stuff that doesn't align with the thing he's focused on creating.
When he's feeling stuck, he's asks questions like, "Who can help me do XYZ? What do I need to learn so that I can create ABC?"
Imagine this scenario:
Let's say you were to die today and that you'd be able to witness what the survivors would say about your life. Let's assume that at your funeral the words would be glowing, the stories entertaining, and the tears genuine.
Now cut to later on that evening when your boys — the guys who knew you best — were having a few drinks in your honor.
What would they say after a few drinks? Would they feel grateful that you gave your best gifts to the planet? Would they be happy that, even though your life was cut short, that you didn't dick around with the time you had?
Or would they talk about how they were disappointed that you died with your best gifts left un-given? Will they remember how you talked about your dreams but did little to make them a reality? Would they remember that you spent your time making excuses or investing your energy into stuff that just didn't matter? Will they talk about how your life was a wake up call for them to stop being busy instead of doing what they felt like they were here to do?
Years ago I figured out that "when we don't know what's important, everything seems important." What I meant by that is if we don't have a clear sense of what really matters then it's easy for us to convince ourselves that putting out fires and dealing with drama and arguing about politics is what we're really here to do.
But when we clarify what's most important, when we create and engage a mission it snaps our ass into alignment. It polarizes us in a positive way. Suddenly it's easy to see what deserves our time and what does not. Instead of looking in the mirror, navel gazing, and wondering "Why can't I get my shit together?" or "What's wrong with me?", we're asking better questions like, "Who or what is going to help me get XYZ done today?"
How can you tell a good mission from a bad one?
Based on my experience, we'll have many missions in our lifetime. Some may last a week. Some may last years. Most importantly, I believe these missions are only worthy of our time and energy if they ultimately help us experience greater expansion, joy, love, freedom, and aliveness. When I hear men describe these types of missions I get lit up.
Unfortunately many, many guys create missions that are rooted in fear, low self-esteem, and a need for validation. No matter how ambitious or grandiose, when I hear men describe these types of missions I typically feel uninspired or sad.
These types of missions typically leave us feeling depleted and unfulfilled. I've personally pissed away years doing this kind of thing, which is why I now work with a coach or group to help me keep my head out of my ass. I don't want to waste any of the time I have left on this planet.
Why I Created the Authority Coaching Group
After doing this work for over 12 years, I believe it's essential to have others to challenge us to clarify and engage what's important so that we don't circle the drain chasing what is not important. It's not the job of others to tell us what to do, but a quality coach or a group of solid men will be able to let you know when you're still just trying to work out some shit that didn't get handled in middle school.
That's one of the reasons why I created the Authority Group Coaching program. It's designed to help you reveal and execute your unique mission — the meaningful challenge that you feel is what you're meant to do. As a group we'll work together to help you align your work, relationships, and life so that you're living with greater energy, freedom, and purpose.
There are only six total seats available in this group so click here if you'd like to learn more about how to claim one for yourself.
Up next: In the next chapter we're going to talk about why most guys struggle to keep things going and why others make it look so easy.