Podcast: Download
Subscribe: Apple Podcasts | Spotify | RSS
How to Break Free from Negativity with Tank's Good News

Is there a way to break free from all of the negativity going on today?
What does Gary Vaynerchuk have to say about the people who attack him?
And what would you be doing with your life if you weren't afraid of what others may say?
You may know George Resch as Tank Sinatra — the guy who uses humor to reach over a million people everyday. Today we're going to talk about trolls, what it means to have your head up your ass, and how we can train ourselves to see the good all around us.
In this interview:
Gary Vaynerchuk and trolls
Why Tank is scared to have The Rock follow him
What makes someone a "sellout"
"Somebody's always gonna be pissed"
How negativity makes us feel alive
Plus:
Why it's your fault if you get offended
What happens when we start looking for good news
"I don't listen to people who don't publish"
The advice from Logic the rapper that changed George's approach
Having your head in the sand vs having your head up your ass
Click here for Happy is the New Rich: (And 207 Other Lightbulb Moments) by George Resch.
About Tank Sinatra aka George Resch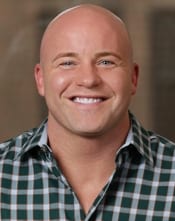 Two time Webby Award winner and Instagram meme sensation Tank.Sinatra (aka George Resch) writes a transformational book for the ADD generation that's going to make Napoleon Hill and Dale Carnegie roll over in their respective graves. Showing a complete disregard for the art of storytelling, he cuts right down to the core of the issues in this collection of 207 single-page entries. George offers transformational mind states and lightbulb moments for readers who feels stuck in their career, health, relationships, or life in general. George has gone from an undateable, unemployable, overweight, smoker and alcoholic to happily married, entrepreneur, bodybuilder, non-smoker, and he has been sober for 15 years.
Click here for Happy is the New Rich: (And 207 Other Lightbulb Moments) by George Resch.
Click here to learn more about Tank Sinatra.
Get a daily dose of good news from Tank here.
And Follow Tank Sinatra on Instagram here.