Podcast: Download
Subscribe: Apple Podcasts | Spotify | Stitcher | RSS
How to Avoid Communication Breakdowns
Alan Alda discusses…

Is everyone a moron or are you just lousy at communicating?
How does your focus on saying "the right thing" screw everything up?
And what can you do to feel less anxious in your interactions?
Legendary actor and bestselling author Alan Alda is here to discuss why smart people can be bad communicators and how you can develop true power in your interactions.
In this interview:
Why being smart doesn't make you a good communicator
Why scientists need great communication skills
Will empathy make you soft and weak?
How do lousy communication skills make everything in life harder?
Why worrying about saying "the right thing" is screwing everything up
Plus:
A simple process for how to "read" people
Can empathy be used for evil?
How can you feel less anxious in your interactions?
Avoiding people that don't agree with you
Why tips suck
For more on how improvisation can make you more powerful click here for the interview with Patricia Ryan Madson.
Click here for If I Understood You, Would I Have This Look on My Face?: My Adventures in the Art and Science of Relating and Communicating by Alan Alda.
About Alan Alda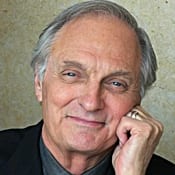 ALAN ALDA has earned international recognition as an actor, writer and director. In addition to The Aviator, for which he was nominated for an Academy Award, Alda's films include Crimes and Misdemeanors, Everyone Says I Love You, Flirting With Disaster, Manhattan Murder Mystery, And The Band Played On, Same Time, Next Year and California Suite, as well as The Seduction of Joe Tynan, which he wrote, and The Four Seasons, Sweet Liberty, A New Life and Betsy's Wedding, all of which he wrote and directed. Recently, his film appearances have included Tower Heist, Wanderlust, and Steven Spielberg's Bridge of Spies.
In 2016, he appears as Uncle Pete in Louis CK's groundbreaking web series Horace and Pete.
He has the distinction of being nominated for an Oscar, a Tony, and an EMMY – and publishing a bestselling book – all in the same year (2005). His Emmy nomination was for his role on The West Wing. His Tony nomination that year was for his role in the Broadway revival of David Mamet's Glengarry Glen Ross. In addition to receiving an Academy Award nomination for his appearance in Martin Scorsese's The Aviator that year, he was also nominated for a British Academy Award.
In all, he has received 6 EMMYs and has been nominated for an EMMY 34 times.
Alda played Hawkeye Pierce on the classic television series M*A*S*H, and wrote and directed many of the episodes. His EMMY nominations include performances in 2015 for The Blacklist, in 2009 for 30 Rock, in 2006 for West Wing (for which he received an EMMY), and in 1999 for ER.
In 1994 he was inducted into the Television Hall of Fame.
He hosted the award winning series Scientific American Frontiers on PBS for eleven years, interviewing leading scientists from around the world. In January 2010, he hosted the PBS series The Human Spark, in which he interviewed dozens of scientists, searching for answers to the question: What is it that makes us human? In 2013 he hosted the mini series Brains on Trial on PBS, exploring the effect of contemporary brain science on the U.S. justice system. Other television performances include Truman Capote's The Glass House and Kill Me If You Can, for which he received an Emmy nomination for his portrayal of Caryl Chessman, an inmate who spent 12 years on death row.
On Broadway, he has appeared as the physicist Richard Feynman in the play QED. He starred in the first American production of the international hit play ART.
He has received 3 Tony nominations. In addition to his nomination for Glengarry Glen Ross, he was also nominated for the Tony Award for his performances in Neil Simon's Jake's Women and the musical The Apple Tree. Other appearances on Broadway include The Owl and the Pussycat, Purlie Victorious and Fair Game for Lovers for which he received a Theatre World Award.
For over 20 years he has worked to help broaden the public's understanding of science.
He helped found the Alan Alda Center for Communicating Science at Stony Brook University where he is a Visiting Professor, helping to develop innovative programs that enable scientists to communicate more effectively with the public. He originated The Flame Challenge, a yearly international competition for scientists in which they compete to explain complex scientific concepts so that 11-year-olds can understand them. Since 2008, he has worked with physicist Brian Greene in presenting the annual World Science Festival in New York City, attended since its inception by over a million people. He's the author of a play entitled Radiance – the Passion of Marie Curie, which had its world premiere at the Geffen Playhouse in Los Angeles in November 2011. His play based on the letters between Einstein and his wives, called Dear Albert, has been presented in New York, Moscow and Brisbane.
His first memoir Never Have Your Dog Stuffed, and Other Things I've Learned became a New York Times bestseller, as did his second: Things I Overheard While Talking to Myself.
He has won the Director's Guild Award three times for his work on television, and has received six Golden Globes from the Hollywood Foreign Press Association, and seven People's Choice Awards, and has been nominated for two Writer's Guild Awards.
Click here for If I Understood You, Would I Have This Look on My Face?: My Adventures in the Art and Science of Relating and Communicating by Alan Alda.