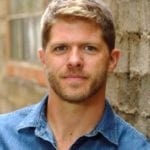 Craig Revord has always been a go-getter. And as a therapist, he built up a robust practice which included seeing over 24 clients (!) per week. He was overworked, undervaluing his work, and driving himself into a ditch.
When he contacted me about helping him make some changes to his practice a few things became clear:
1 — He wanted to make more money so that he and his family could travel and enjoy more experiences together.
2 — He wanted to work less. Seeing so many clients every week wasn't sustainable.
3 — He wanted to feel the excitement of helping people who inspired him and were doing ambitious things in the world.
4 — He had no freakin' idea if this was possible. This all sounded like a fever dream to him.
Over the past 10 months of working with me and the other members of my group for coaches, Craig has redefined what is possible in his life and business. He's restructured his business so that he can work with a variety of people doing many different things. He's breaking out of the confines of his office and integrating the things that light him up such as the wilderness, fitness, and even fine dining.
He's seeing far fewer clients and is now planning his first vacation in years.
He's learned how to connect with the people in his community who inspire him. He's learning to create his own opportunities instead of settling for whoever calls him.
And what about where the rubber meets the road? Over the last half of the year, he's been making more than $20K per month.
Craig is an extraordinary man doing the extraordinary for his business and family. But when we break it down and look at what he did on a week to week basis, this extraordinary outcome was the result of consistent, bold action.
This is just one example of the kind of challenge and support being offered in this year's Group for Established Coaches (I really gotta get a fancier name). This is a small group for established coaches and therapist-types who are focused on making great money while delivering a ton of value to others. This is not a "head in the clouds" support group. It's a practical, "get shit done" experience for a few coaches who are serious about doing the work.
Seats are very limited — no more than 5 are available. If you'd like more information then please click here to fill out a few questions.
Bold, consistent action doesn't come from a weekend workshop or a book or a podcast. It's the product of a structure that keeps us on track over a long period of time. That's why I created this group. This is what works.
Here's to you doing the extraordinary,
Tripp
PS Here's the link to learn more about the group for coaches.