Podcast: Download
Subscribe: Apple Podcasts | Spotify | Stitcher | RSS
Heart Attack Recovery
Do you feel alive or do you spend most of your time just existing?
Could you be wasting time and energy on the stuff that just doesn't matter?
And would you live your life differently after facing your own death?
I don't want to spoil anything about the story you're about to hear, but let's just say Dave Baker has a pretty amazing tale to tell. He has spent his life being highly active both as a competitive athlete as well as a lifeguard with the Wrightsville Beach Ocean Rescue program. 11 years ago he should have died, but obviously he didn't. And today we're going to talk about what happened and how this event has shaped the way he chooses to live.
In this interview:
A job doing the 5 minutes nobody else wants to do
What happened in May 2007 when Dave was 49 years old
"I don't wanna be a mall walker."
Refusing to put limitations on himself
Facing death — to the body and to the ego
Plus:
What happened exactly one year and one day after the incident
Somebody's grind is someone else's comfort zone
Physical discomfort and emotional discomfort
The stress of trying to meet the expectations of others
Don't sweat the small stuff
Click here to check out Dave Baker's photography:
https://www.dbphotographicart.com
Click here to watch the documentary about the Wrightsville Beach Ocean Rescue squad.
About Dave Baker
In Dave's own words…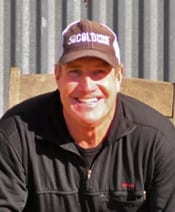 May 19, 2007: At 49 years of age, my life changed forever. While participating in a sprint distance triathlon, I suffered my first ever "Did Not Finish" (DNF). I went to my doctor two weeks later and learned the life-altering news. My left anterior descending artery, commonly called the "widow maker", was 100 % blocked (bad genetics, not lifestyle.) The doctor told me that we should not be having this conversation: I should be dead. I did not have any of the normal signs or symptoms of a heart attack. During the race, I thought I had over trained and was coming down with a chest cold. However, the irreversible damage had been done and a
portion of my heart was destroyed, forever.
My ejection fraction, (the amount of blood pumped out by the heart on each contraction was down to a life-threatening 32% ) was now less than half of a normal heart. In cardiac rehab after my lifesaving operation, I was only capable of walking 200 yds before I was exhausted. After three months I was allowed to workout on my own without a cardiac monitor. I was given strict orders to never exceed 75 % effort in training or racing – if I would even race again the consequences of over exertion would be fatal.
May 3, 2008: Eleven months after my operation, I competed in a half-Iron triathlon. My game plan; was to enjoy the experience, to avoid damage to my heart and to avoid stressing about finishing under my time goal. It was a wonderful experience, that allowed me to reflect during those last miles about how far I had come since my initial 200 yrd walk in cardiac rehab.
May 17, 2008: I stood where, just a year earlier, I had almost lost my life. My goal was just to finish, and follow my 75 % effort rule and not to "red line" my heart. Not to mention, to face some demons and get a gorilla off my back. The emotions I felt ranged from total fear to a serene calm. Long story short, I finished, faced my demons, conquered the fear, and somewhere along the way, I forced the gorilla off my back.
In one year, I went from nearly dead to the winner's podium with a second place finish in my age group in the race that nearly ended my life.
Today: At 60 years old, my desire to compete led me to the sport of prone paddleboarding and one- person outrigger canoe (OC1) racing. I have traveled and competed in numerous races throughout the country since my medical setback. Whether it's on dry land or on the water I've finished in front of those with healthy hearts and younger bodies. My next great adventure for the 4th time? A 31- mile paddle race through the Tennessee River Gorge in the fall of 2019. For more than 15 years, I have been a career Firefighter, an Emergency Medical Technician (E.M.T.), and the Ocean Rescue Director, (Professional Lifeguard) for The Town of Wrightsville Beach, North Carolina. The program that I oversee was awarded the United States Lifesaving Association, National Award for our "Commitment and Dedication to Public Safety" in 2008. I would like to further educate others about heart disease on how it is not a terminal setback in pursuing life, with your assistance and my passion for life from beating the odds of an early death. I can provide a heartfelt and compelling program to clients looking for a speaker to energize their staff. Adding to it, my professional career in emergency services, along with producing a nationally recognized program of lifesavers, I feel I would be a valuable addition to your company in the diversity I bring to the stage which will change people's lives.
Click here to check out Dave Baker's photography:
https://www.dbphotographicart.com
Click here to watch the documentary about the Wrightsville Beach Ocean Rescue squad.