Podcast: Download
Subscribe: Apple Podcasts | RSS
Why Bother Loving Yourself?
Note: This is a previously released interview from The New Man. It's been a while since it was published, but the valuable ideas are still just as relevant today. Here's an opportunity to listen again or for the first time. Enjoy!
Can you actually learn how to build confidence and get in the zone where good fortune seems to flow your way?
Is being happy or content for losers?
And are you creating what you really want or are you just avoiding failure?
Love Yourself Like Your Life Depends On It author and renaissance man Kamal Ravikant is here to discuss the dangers of being driven by fear plus a simple practice to build confidence and bounce back after a challenge.
In this interview:
How is fulfillment different than being happy?
How to build confidence
Why things just seem to go your way when you're not really trying
Plus:
The difference between self-love and narcissism
The danger of a "finish line" mentality
When failure is okay
How to tell if you're being driven by a fear of failure
Click here for Kamal Ravikant's book Love Yourself Like Your Life Depends On It.
About Kamal Ravikant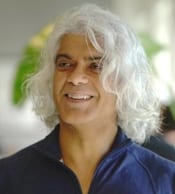 Lessons learned, late night thoughts, and experiences shared.
I've trekked to one of the highest base camps in the Himalayas, earned my US Army Infantry patch, walked 550 miles across Spain, lived in Paris, and bungee jumped out of a perfectly good hot air balloon.
I've hung out with some of my favorite authors and been the only non-black, non-woman member of the Black Women's writers' group.  I've written  a novel about love, forgiveness, and facing our fears.
I've danced the merengue on hot nights in the Caribbean, kite surfed (badly), sailed off the West coast of France, watched double rainbows, shooting stars, sunrises and sunsets in various parts of the world.
I've driven like a maniac on Highway 1, won a San Francisco-wide modeling contest, gotten drunk on the same barstool as Hemingway, watched Ben Kingsley eat a sandwich in his boxers, felt the smooth marble of the Taj Mahal against my bare feet, held the hands of dying patients, sang in the shower (badly), made love to some beautiful and amazing women (not too badly), co-founded a company with the guy who wrote the first browser, and been fortunate enough to work with some of the smartest investors and engineers in Silicon Valley.
Starting blocks are behind me.  Watch out world…..
Click here for Kamal Ravikant's book Love Yourself Like Your Life Depends On It.