Podcast: Download
Subscribe: Apple Podcasts | RSS
The Obstacle is the Way
Note: This is a previously released interview from The New Man. It's been a while since it was published, but the valuable ideas are still just as relevant today. Here's an opportunity to listen again or for the first time. Enjoy!
Do you think some folks are just magically able to bounce back from adversity or did they just practice something you can learn, too?
Do you think other people are successful because they've figured out a way to avoid problems?
And what can you do the next time life serves you up an unexpected challenge?
Ryan Holiday is here to discuss how you can turn adversity into advantage and why the obstacle is the way.
In this interview:
How getting clear about what you can and cannot control gives you power
Why chasing perfection is paralyzing you
Why anyone can learn to face problems and move through obstacles
Plus:
Why it's time to stop avoiding the things that scare you
How the stories you tell yourself determine what's going to happen
Why true power and bravery may not appear the way you think it should
Click here for Ryan Holiday's book The Obstacle Is the Way: The Timeless Art of Turning Trials into Triumph.
About Ryan Holiday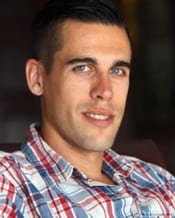 I am Ryan Holiday and I am a writer and media strategist. When I was 19 years old, I dropped out of college to apprentice under Robert Greene, author of The 48 Laws of Power. I had a successful marketing career at American Apparel and went on to found a creative agency called Brass Check, which has advised clients like Google, TASER, and Complex, as well as many prominent bestselling authors, including Neil Strauss, Tony Robbins and Tim Ferriss.
I am the author of ten books, including The Obstacle Is the Way, Ego Is the Enemy, The Daily Stoic, Conspiracy and Stillness is the Key which have sold more than 2 million copies in thirty languages and have a following among NFL coaches, world-class athletes, TV personalities, political leaders, and others around the world. I spend much of my time on a ranch outside Austin, Texas where I do my writing and work in between raising cattle, donkeys and goats.
I originally started this blog nearly ten years ago to help me along in my journey of self-education. I wanted to write what I wished other blogs would talk about more often: life, dealing with assholes, how to be self-critical and self-aware, humility, philosophy, reading, learning, research and strategy. Aside from this site, I have written for the New York Times, USA Today, New York Observer, Thought Catalog, Entrepreneur,  Fast Company, The Huffington Post, Medium, Boing Boing, Forbes, Columbia Journalism Review and many other outlets.
Click here for Ryan Holiday's book The Obstacle Is the Way: The Timeless Art of Turning Trials into Triumph.