Podcast: Download
Subscribe: Apple Podcasts | RSS
Doc G (Earn and Invest) – Is There More to Life Than Chasing Money and Being Important?
Do you worry that you're on the wrong pa

th in life?
Are you focused on goals and outcomes or doing what you actually enjoy?
And what if there's more to life than chasing money or the need to be important?
Before Doc G became a writer and host of the Earn and Invest Podcast, he was like many doctors. But after years spent chasing outcomes, money, and building an ideal version of himself, he realized he was in a trap. Today we discuss how he reinvented his personal and professional life based on what gave him a sense of aliveness and meaning. We'll also dive into our fixation on money, safety, and why death can be a wonderful teacher.
In this interview:
Is life forcing you to change?
Who are you if you're not chasing money?
Joseph Campbell on feeling alive
Doing things to prove we're enough
Why ego gets in the way of meaning or purpose
Plus:
Why Doc G got depressed once he was financially free
Thinking if you were someone else you'd be free once and for all
Redefining your life based on what brings aliveness and meaning
Chasing outcomes instead of enjoying the process
Dealing with resistance and self-doubt
Searching for "hacks" to avoid discomfort, risk, and vulnerability
And:
How dealing with death on a regular basis impacts our ability to live
What is hospice?
What is the dying process like?
How does spirituality affect our ability to die peacefully?
The fear of dying with peace instead of regrets
Click here to check out Doc G's podcast and blog Earn & Invest.
About Doc G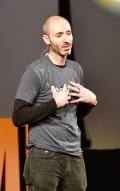 Doc G was born in Evanston, Illinois, in 1973, his interest in becoming a doctor ignited when his father, an oncologist, died unexpectedly in the prime of life. This profound and life-shaping boyhood loss colors Doc G's self-reflective writing and manifests as his "genetic destiny" to practice medicine.
After graduating from the University of Michigan, he moved to Chicago and received his medical degree from Northwestern University. He now practices Internal Medicine in Northbrook, Illinois.
He was an Assistant Professor, first at Northwestern University and then at The University of Chicago. He has been a medical director of several nursing homes, started multiple palliative care programs in extended care facilities, and currently is an associate medical director at Journeycare Hospice.
Doc G's strong leadership stance for responsible medical training permeates many of his stories and essays. He shares from his own experience, advising and plainly addressing the challenges of becoming a physician in today's political-medical milieu.
Doc G is passionate about communicating. He is a consummate writer and speaker about not only medicine but also personal finance. He started a podcast, Earn & Invest, in 2018 to explore financial independence and wellness.
He has also run several small businesses including a concierge medical practice, an online art gallery, and a blog and podcast on personal finance.
Click here to check out Doc G's podcast and blog Earn & Invest.