Podcast: Download
Subscribe: Apple Podcasts | RSS
How to Develop Anti-Fragile Confidence – Brian Johnson: Building Heroic Part 3
Are you focused on what's important or just trying to put out fires?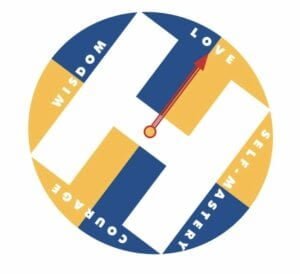 Do you ever get overwhelmed by all of the ideas in books and podcasts?
And what does it mean to be ruthless?
Optimize force of nature and CEO Brian Johnson and I catch up after his new venture, Heroic made history by becoming the first company to raise $5 million through crowdfunding. Today, we discuss dealing with pressure, distractions, and developing anti-fragile confidence.
FWIW, this conversation took place after I had to reschedule because the 5G vaccine nano-bots hijacked my brain.
Let's dive in.
In this interview:
When the finish line is really a starting line
Dealing with pressure
The importance of a big "why"
Finding the sweet spot for your big goal
How do you train a hero?
Plus:
What's the game you're playing?
How to deal with doubt
Developing anti-fragile confidence
Dealing with discomfort
Does discomfort mean you're on the wrong path?
And:
Self-betrayal and grinding vs self-alignment and grit
What if the thing that scares you is the thing that will energize you?
What's the question that gets us out of a victim mindset?
How do you figure out what to delegate?
What does it mean to be ruthless?
As well as:
Are you reactive or focused?
Are you fierce with your focus?
Doing what's right even when you don't feel like it
What's the fastest way to make a big change?
Getting stuck between optimizing and maximizing
Click here to learn more about Brian Johnson's project Heroic.
About Brian Johnson
After selling my first business (eteamz) over 15 years ago (at 26), I had enough money to take a little time off to figure out what I wanted to do when I grew up. I became a lover of wisdom—a philosopher. My quest? I was obsessed about understanding what makes great people great. What is it about that .0001% of people in the world who truly optimize their lives, actualize their potential and give their greatest gifts in greatest service to the world? (And… enjoy the process!)
I read a ton and traveled a bit, studying Socrates in Athens, Aurelius in the Danube of Hungary, Jesus in Jerusalem, and Rumi in Konya, Turkey. I started sharing what I was learning via a daily newsletter that quickly went from a couple hundred friends to thousands of people.

After several years of reading, writing, and thinking, I needed to make some money again but didn't feel like going the typical self-help route so I created my second business (Zaadz). After selling that a few years later, I had enough money to take a little more time off. I looked into a range of Ph.D. programs but couldn't find one that integrated everything I wanted to study, so I playfully (emphasis on playfully) decided to give myself my own Ph.D. in Optimal Living—integrating ancient wisdom, modern science and practical tools across a range of domains (from nutrition and psychology to business and peak performance) to Optimize and actualize.
As part of my made-up program's Master's project, I distilled 100 of the best books on optimal living into 6-page PDF summaries (and 20-min MP3s). I called these "PhilosophersNotes" and created a profitable business sharing the wisdom I was learning as a demonstration that we can get paid to do what we love in service to the world. My "dissertation" was a simple book called A Philosopher's Notes and a class I taught called "Optimal Living 101" (which became an integrated part of the curriculum at Harvard-Westlake).
Of course, the learning's never over so I continued studying and practicing. Over the last decade, I've created 600 PhilosophersNotes. I've also created over 50 Optimal Living 101 master classes on everything from Optimizing your Energy and Confidence to your Productivity and Purpose and over 1,000 "Optimize +1s" sharing wisdom in super-short daily bursts.
These days I continue to study, embody and teach the fundamentals of Optimizing while sharing what I'm learning with our growing community of Optimizers and Optimize Coaches from around the world.
When I'm not doing that, you'll probably find me hanging out with my wife Alexandra and our two kids, Emerson and Eleanor, or on the trail on our ranch outside Austin.
Click here to learn more about Brian Johnson's project Heroic.