Podcast: Download
Subscribe: RSS
Rickson Gracie Breathe Interview
What does it mean to be a warrior in your life?
Do your insecurities distract you or keep you stuck in stupid pissing matches?
And is it possible to train ourselves so that we can be calm in hell?
If you're even remotely familiar with the world of Brazilian Jiu Jitsu then you know that Rickson Gracie is nothing short of a legend. But beyond the mats, Rickson's wisdom runs deep, and he has so much to offer for those who don't consider themselves to be fighters.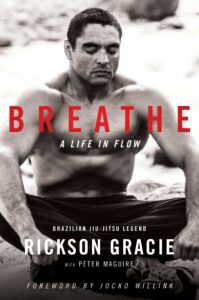 He has a new book called Breathe: A Life in Flow. It's a fantastic read not only because his life story is so interesting but also because it provides insights into what it means to be a spiritual warrior in our modern times.
Rickson was never beaten as a professional fighter, but he has experienced great loss. In a time when so many guys are puffing themselves up or numbing themselves to escape their inner struggles, Rickson very openly talks about the beating he took and the darkness he experienced after his son died. Most importantly he discusses how he was reborn and even thankful for the loss.
I loved talking with Rickson, and felt we could have gone on for hours. It's always great to connect with those rare, few men who have great strength and a huge heart as well. I hope you enjoy this conversation as much as I did.
In this interview:
What does it mean to be a spiritual warrior?
What's the key to being a great teacher?
How does your insecurity create more problems?
Do you hide your emotions from yourself and others?
The dangers of putting ourselves or others on a pedestal
Plus:
Being deeply impacted by grief
Can we train ourselves to deal with emotional loss and grief?
"Nothing can be completely wrong or bad."
How can a heavy loss become a gift?
Using your intuition to find your way through the dark times
Click here for Rickson Gracie's book Breathe: A Life in Flow.
About Rickson Gracie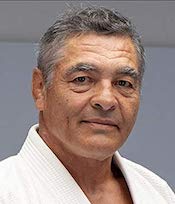 Helio Gracie's third son Rickson was born into Gracie Jiu Jitsu on November 21, 1959 in Rio de Janeiro, Brazil.
Rickson entered his first competition at the age of six; was teaching the art by fifteen and was awarded his black belt by his father at eighteen.
When the twenty-year-old Gracie defeated Rei Zulu, a 230 -pound Brazilian brawler with 120 consecutive wins in 1980, Brazil took notice. After a second, even more decisive victory against Zulu in Rio's Maracanazinho Stadium in front of 20.000 spectators in 1984, the world took notice.
By the age of 25, Rickson Gracie was well established as one of the greatest fighters in the history of this family of fighters. For almost two decades he reigned as World Jiu Jitsu champion in both the middle heavy weight and open divisions. Gracie took on all challengers in bouts in the ring, on the street, and on the beach and carried the weight that came with being his family's last line of defense.
Rickson Gracie moved to America in 1989 to help his brother Rorion establish their first Jiu Jitsu Academy in Torrance, California.
Although he trained his younger brother Royce for the first UFC, the Gracie family's greatest fighter only fought in Japan. He won Japan's premier fighting tournament, the Japan Open Vale-Tudo, in devastating fashion in 1994 and 1995. During both tournaments he defeated three opponents by submission in a single night. After these dominant performances, the Japanese fans begrudgingly paid Rickson Gracie the ultimate compliment and acknowledged, that whether he knew it or not, the Brazilian possessed the "Samurai Spirit."
Rickson Gracie returned to the Tokyo Dome in 1997 and defeated Japan's top-ranked fighter, Nobuhiko Takada by submission in the first round. A year later, in a highly anticipated rematch in front of 50,000 spectators, he again defeated Takada by submission. 30 million television viewers watched his final fight against Japan's number one fighter, Masakatsu Funaki, by rear naked choke in the first round. After retiring in 2006 with an unprecedented, undefeated record of 465-0, Gracie focused all of his energy on spreading the art of Jiu Jitsu. Even today, the 8th degree black belt's technique is considered to be the finest expression of Gracie Jiu-Jitsu in the world.
Celebrated for invincibility on the mat and dignified conduct outside the ring, Rickson Gracie is known as a modern day samurai and inspires others to follow in his footsteps and strive for greatness. He has taught students from all walks of life: men, women, children, senior citizens, handicapped students, FBI Agents, SWAT Teams, Navy Seals, military personnel, martial artists of various styles, athletes and actors. Thanks to his dedicated efforts as teacher, Gracie has built a legacy of disciplined students, teachers, and warriors.
Today he continues to teach special classes and seminars to help spread and further refine his family's art. He presently is the president of the JIUJITSU GLOBAL FEDERATION, RICKSON ACADEMY and RICKSON GRACIE CUP whose mission is to restore Jiu Jitsu's effectiveness, increase the art's popularity by offering Jiu Jitsu community with a true representation of our culture, art, and tradition.
Click here for Rickson Gracie's book Breathe: A Life in Flow.