Podcast: Download
Subscribe: RSS
JP Sears get offended
When was the last time you laughed at yourself for being a moron?
Do you feel powerful when you lash out at someone who has offended you?
And what makes judgmental people awful people?
In this encore episode, the (very) controversial YouTube comedian JP Sears is here to talk about laughter, getting offended, and how you can be better than everyone else.
In this interview:
Why getting offended is therapeutic
The sexy truth about Tantra and Acro Yoga
How to tell if you have a "junk food purpose"
Why you should bury your feelings and stop being needy
Why you need a male guru
Click here for JP Sears book How to Be Ultra Spiritual: 12 1/2 Steps to Spiritual Superiority.
About JP Sears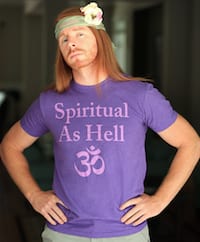 JP Sears is a comedian who tours the country extensively doing stand-up comedy and publishing weekly online videos. His videos have been viewed more than 500 million times. In addition to inspiring laughter in a weird world, JP's work takes an unapologetic stand for freedom, free speech, and encouraging people to free themselves from fear.

JP lives in Texas because of FREEDOM! There he's set a world record for how much he loves his family. When he's not making videos or performing on stage, JP spends his time passionately playing all out, scaring himself daily, and choosing to live guided by his own free will.