Podcast: Download
Subscribe: Apple Podcasts | RSS
Jordan Grumet Taking Stock
Is money like oxygen for you?
Is money the reason why you feel stuck?
And will we care about money in the last days of our lives?
Today's guest has helped many, many people die. And in those moments, money wasn't a concern for them.
Jordan Grumet aka Doc G returns to discuss his new book Taking Stock. It's about all fun stuff like money, death, and what we may regret at the end of our lives. Luckily he's here to share his unique wisdom as a hospice doctor and personal finance expert. Today we'll learn how to focus on what's most important, put money in perspective, and prepare for a peaceful exit.
In this interview: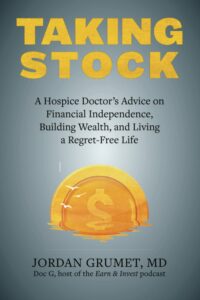 What do the dying regret about their lives?
How does death change our views on money?
What a hospice doctor does
Why Maslow's Hierarchy of Needs requires an update
How much is enough?
Plus:
Why did he panic when he realized he was financial independent?
Why do our "wins" feel empty?
Why are people scared of being "content"?
The key to making life more playful and alive
Why making money is a huge distraction from the important stuff
And:
Resisting the next phase of our lives
Should we live for the future or go YOLO?
What's wrong with the FIRE movement?
Does your passion need to pay the bills?
How can we die with a sense of peace?
Click here for Taking Stock: A Hospice Doctor's Advice on Financial Independence, Building Wealth, and Living a Regret-Free Life by Jordan Grumet
About Jordan "Doc G" Grumet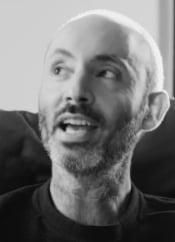 Jordan Grumet was born in Evanston, Illinois in 1973. His interest in becoming a doctor was ignited when his father, an oncologist, died unexpectedly in the prime of life. This profound loss not only inspired him to practice medicine, it has given him a unique perspective as a financial expert, challenging him to think deeply and critically about concepts like wealth, abundance, and financial independence.
After graduating from the University of Michigan, Jordan received his medical degree from Northwestern University, and began practicing Internal Medicine in Northbrook, Illinois. He currently is an associate medical director at Journeycare Hospice.
After years of blogging about financial independence and wellness, Jordan launched the Earn & Invest podcast in 2018. In 2019 he received the Plutus Award for Best New Personal Finance Podcast and was nominated in 2020 and 2021 for Best Personal Finance Podcast of the year. His book, Taking Stock: A Hospice Doctor's Advice on Financial Independence, Building Wealth, and Living a Regret-Free Life is being published by Ulysses Press in August 2022.
Click here for Taking Stock: A Hospice Doctor's Advice on Financial Independence, Building Wealth, and Living a Regret-Free Life by Jordan Grumet