Podcast: Download
Subscribe: Apple Podcasts | Spotify | RSS
Clay Collins, The Interactive Offer & How to Quit Your Day Job Without Losing Everything
Are you stuck in a job but too afraid to risk starting your own gig?
Do you think entrepreneurs have brass balls and are somehow immune to risk?
And do you think that before you can bring your idea to the world, you've got to spend years honing it in isolation until its absolutely perfect?
Clay Collins is back on The New Man (here's his first interview). We're talking about how a guy like you can finally bust out of that crap job to create a better life for yourself without having to put it all on the line.
In this episode:
What is the Interactive Offer?
Why most businesses are dead before they see the light of day
Why your excuses for staying stuck are fantasies
How your friends help you stay stuck
Are entrepreneurs adrenaline junkies?
Do you need to be a superhero before you can do your own thing?
What if you don't have a good idea or direction?
What if you don't know if your idea will sell?
How a badass Taoist general is going to help you live an amazing life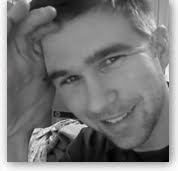 From Clay's website:
I am a fulltime internet marketer from Minneapolis who does business in three niches.
I aim to live my life in a way that is fundamentally oriented towards maximum contribution and making the world a better place.
I strive to live in a manner that renders this statement true: everything I do is oriented towards helping people generously feed their families while following their deepest purposes.
I have a vision for a world where every person can be their own boss and secure – at the very minimum – an $80K+ income while working from home. I have a vision for a world where people do not have to choose between being their own masters and feeding their families. And I pursue this vision because I believe entrepreneurship is one of the most powerful enablers of self-improvement.
Full Disclosure: the links to the Interactive Offer on this page are affiliate links which means that I will earn a commission for any sales resulting from clicking on this link. Since The New Man doesn't support third-party advertising, such offers provide a win-win-win for all involved. I recommend products and services I believe in, listeners benefit from these products and services and the provider benefits from the sale. By benefiting from these offerings you are also helping The New Man Podcast stay alive. Thank you for supporting The New Man!