Podcast: Download
Subscribe: Apple Podcasts | Spotify | Stitcher | RSS
Are you starting over on the dating scene?
Are you confused about what to do or how to act if you're moving on after a long term relationship?
And do you really have to choose between a fulfilling connection and an exciting sex life?
Today Shana James reviews some of the challenges facing guys who are starting over and she explains why women are hungry for a guy who listens to The New Man.
In this interview:
Starting over after a long term relationship
Why the mid-life crisis is a gift
Why some guys are choosing to stay in a lousy relationship because they're scared to try to find someone new
What mindset gets you into lousy relationships?
Why it's a great time to be a high quality man
And…
Fear that the woman you want won't want you
Not knowing how to start conversations with women
Fear of rejection and how it impacts our entire lives
If you have sex with her, are you responsible for her?
Believing you have to play games to get women to like you
Plus…
Why it's time to stop avoiding difficult conversations
Erections and what turns you on
Believing you can't have hot sex and love with the same person
Why she wants to hear from you in bed
Click here to learn more about Shana James.
Click here for Shana's free training: 3 Fundamentals to Lasting LOVE and Passion This Time Around
About Shana James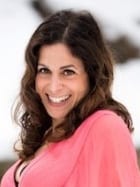 Shana James has coached nearly a thousand men and almost as many women, around the world, in the past decade. She is one of the original facilitators for the Authentic Man Program and co-creator of the Authentic Woman Experience.
Shana is an ally for men. She does not teach games or pick up lines. She works specifically with each man in the places he holds back and feels stuck. With incredible love and compassion for men, vulnerability and willingness to tell the truth, she makes it safe for men to work through their biggest fears and deepest shame…so they are free to have passionate, fulfilling connections, relationships and sex with the women they really want.
She brings Western wisdom, with a masters in psychology and training in man/woman dynamics…as well as Eastern wisdom — yoga, meditation, tantra, and various spiritual practices, to help men have what they want in dating, relationship and life.
Click here to learn more about Shana James.
Click here for Shana's free training: 3 Fundamentals to Lasting LOVE and Passion This Time Around