Podcast: Download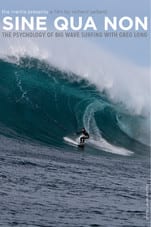 Are you waiting to get your confidence up before trying something scary?
Do you feel like you need to hide your fears from yourself and the world?
And how does avoiding risk zap your energy and kill your enjoyment for life?
Big Wave World Champion Surfer Greg Long nearly drowned and then went Christmas shopping the very next day. While his body may have recovered quickly, his fears and confusion about living took a far greater toll.
In this interview:
What it's like to drown in huge surf at Cortes Bank
What to do when you lose your fire
How to take the power away from our fears
Why the best preparation in the world won't protect you from getting knocked around
Why avoiding risk and fear is killing you
Plus…
How ego keeps us playing small
The trap of attaching our identity to what we do in the world
Getting stuck in jobs or relationships that don't serve us anymore
Controlling our thoughts
Letting go of negative feelings
Click here to learn more about Sine Qua Non: The Psychology of Big Wave Surfing with Greg Long.
Photo credits: A-Frame Media (banner), Seth Migdail (bio)