Who is Tripp Lanier?
Tripp Lanier is a men's coach and host of The New Man Podcast: Beyond the Macho Jerk and the New Age Wimp.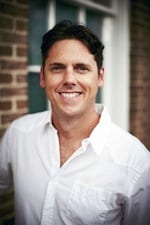 As a host, he has interview experts from all walks of life including Tim Ferriss, Laird Hamilton, Ken Wilber, Dan Millman, Marcus Buckingham, Bill Harris, Steve Pavlina, AJ Jacobs, Chip Conley, Lisa Oz, Dr. Robert Glover, and Shawn Phillips.
The podcast reaches thousands of people in over 110 countries around the world, and regularly finds its home in the Top Ten Self Help Podcasts on iTunes. Tripp was featured in EnlightenNext's issue dedicated to "Constructing the New Man." (EnlightenNext was formerly known as What is Enlightenment Magazine.) He's also been featured by The Good Men Project.
As a coach, Tripp has helped men all over the world break out of mediocre lives, do what they love, and navigate the challenging world of relationships. The New Man Life online course brings his teachings to an even broader audience.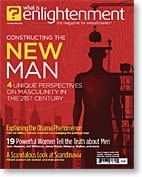 As a creative entrepreneur, Tripp created one of the first digital video post-production companies in the Southeast. For over twelve years, Tripp created TV shows and commercials for national and regional clients.
On the artistic front, Tripp has written, performed and produced albums with his own rock groups, Hank Madison and Screaming Witness. He's also co-produced Stuart Davis and can be seen regularly humiliating himself on Stuart's Sex God Rock n Roll TV Show on HDNet. Other contributions include working with Ken Wilber as Co-Director of Integral Institute's Art Center.
Tripp has had the privilege of studying with Ken Wilber, Jun Po Denis Kelly & The Hollow Bones Order of Rinzai Zen, Genpo Roshi and Big Mind, David Deida, Vipassana (S.N. Goenka), Authentic World (Authentic Man Program), The Taoist Tai Chi Society and many other amazing people along the way.
Tripp is married and has the best daughter in the whole wide world. He spends his time surfing, paddleboarding (SUP), and playing in the rock band, Sex and Bacon.
Click here to visit Tripp Lanier's Coaching site.
—————
—————
What is The New Man: Beyond the Macho Jerk and the New Age Wimp?
The New Man Podcast is personal development for guys who think, "self help is for losers."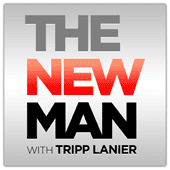 It's a show that explores what guys think about but don't typically talk about unless they've had a few beers.
The New Man Podcast reaches thousands of people in over 110 countries around the world providing entertaining, practical and often humorous advice on every area of a man's life — relationships, sex, dating, career, money, power, purpose, inner game, lifestyle design, spirituality, and fitness.
So Why Should You Care about The New Man Podcast?
Let's face it — being a forward thinking man in the 21st Century is confusing. The archetypes of the past are finished.
As glamorous as it might seem, Don Draper's womanizing, boozing version of a man would be in sex and alcohol rehab within 15 minutes today.
In our increasingly-connected society John Wayne's stoic-lone-wolf-type would be left on a street corner begging for change.
And who wants to be the "nice-guy-new-age-wimp" whose spineless tendencies make him a doormat for women and the world to walk over?
It's time for The New Man — the 21st century man who goes beyond the macho jerk and the new age wimp. The man who navigates relationships and work with brains, balls and heart.
Each interview explores topics like:
Attracting a quality woman without playing "Pickup Artist" (PUA) games or seduction tricks
Having an exciting sex life no matter how long you've been married
Navigating the sticky world of relationships
Stop waiting to do what you really want to do in life
Breaking out of a confining job and getting paid to do what you love
Finding your purpose and living a passionate life
Getting a handle on fear and beating resistance
Developing the best physical, mental and emotional practices so you don't play small
Living a life with brains, heart, guts and balls
Handling career transitions
Going through break-ups
Dealing with uncertainty
Recovering from "The Nice Guy Syndrome"